Looking for some new ideas for KONG fillers for your pup? These 15 new ideas for KONG dog treats will give your furry friend more chewing fun! They're the perfect reward, and also great for when you need to keep your pup busy for a bit.
Ah, man's best friend. The friend who's always giving unconditional love. There are so many ways we can give that love right back, so that our pooch knows how much he's appreciated. Doggy snuggles. Long walks. Playing with balls and toys. And treats! Oh boy, does my hound love a good treat. You can just see the happiness in his eyes when I toss him a filled KONG.
New KONG Treats
Lately I've been thinking about ways I can surprise my dogs with new tasty KONG treats. I want a tasty treat that will be healthy, but also that he'll really love. He loves the goodies from our original list 15 KONG Fillers, which includes his favorites like peanut butter, mashed banana, and a frozen KONG treat we call "nice cream".
But he also loves something that was absent from our last list…meat!
Stealing from our plates isn't always safe for him, since we often cook with ingredients like garlic and onions, which are toxic to dogs. So plate-sharing isn't allowed in our house. With that in mind, I wrote up a list of new ideas for KONG stuffing, and they've been a hit. I'm going to share my list with you, and I hope your furry pal will enjoy these KONG snacks just as much!
A Few Things to Remember for Safety
Always fully cook meat. Dogs may react differently to bacteria that is harmless to humans, so even if you eat your meat rare, serve meat well done to your dog.
Avoid fatty cuts of meat. Yes, bacon tastes great to dogs, but the fat is not healthy for them.
Cut meat into small chunks for easy chewing, or use ground meat.
Always monitor your dog while he's using a KONG toy.
Don't plug the small hole in the stuffed KONG; this can create a suction effect on your dog's tongue…OUCH.
Get the right size KONG for your dog or puppy. A small dog will need a different size than a large dog. Review the KONG size guide here.
Cleaning Your Dog's KONG
Cleaning your dog's KONG after she's done eating is important to do no matter what you put in it, but with meat it's especially important that it get thoroughly cleaned right after she's finished, since eating spoiled meat could make your pet ill.
KONGs are dishwasher safe, and you can put them on the top rack.
You can hand clean the KONG thoroughly with warm water and dish soap.
If there is food inside that won't come off easily, you can let the KONG soak a bit in warm soapy water first, and then use a bottle brush to get it clean.
Lean Ground Meats
Ground meat is easy to cook up and stuff into a KONG, and is a very tasty treat for your pup.
Ground Beef – I like to mix a little cheese in with some ground beef for my dog, and just cook it up in a fry pan for him. If your dog can tolerate lactose, a little cheese makes this KONG treat a great one.
Ground Chicken – This can be a little dry, since it's quite lean, so a little cheese helps the flavor here too.
Ground Pork – Ground pork can be fatty, so keep this ground meat in moderation. Mixing a little of this with some green beans is a delicious KONG treat for your dog.
Ground Lamb – We often have ground lamb on hand at our house, because we enjoy cooking Mediterranean foods when we're not cooking Southern style. So we cook up a bit on the side, plain with no spices, and it's perfect for the KONG.
Shredded Meats
Shredded meats are a dog's favorite, and can be combined with other veggies or fruits for extra flavor.
Shredded Chicken – Chicken is a very common primary ingredient of canned dog food and kibble. Shred up some of the fresh stuff for the KONG, and your puppy dog will be thrilled for this treat.
Shredded Turkey – Our dog is always super-excited on Thanksgiving, because his KONG filler for the next few days includes turkey with sweet potato or canned pumpkin. He loves that flavor combo. (I do too!)
Shredded Duck – I personally love duck… and like a greedy kid, I refuse to share it with my dog. It's also expensive, so it's not the most economical dog treat. BUT, they love it. So if you're willing to share, pull off a little bit for the KONG.
Fish
Fish can be a great choice as a healthy treat. But don't feed your dog tuna (fresh or canned), as the mercury content is much higher than other types of fish. Dogs and cats are more susceptible to mercury poisoning than humans are, because of their smaller size.
Boneless Salmon – Salmon is a great source of protein and will help keep your pup's coat healthy. The Omega-3 fatty acids offer excellent nutritional value. Just bake it plain, remove any bones, and stuff some into the KONG.
Salmon Skin – Just peel the skin off cooked salmon, or, bake uncooked salmon skin shiny side up for 10 minutes until crispy. Then chop up the skin and put it into the KONG. The skin is flavorful enough that it doesn't have to be mixed up with other treats, but rice could be added for a bit more substance.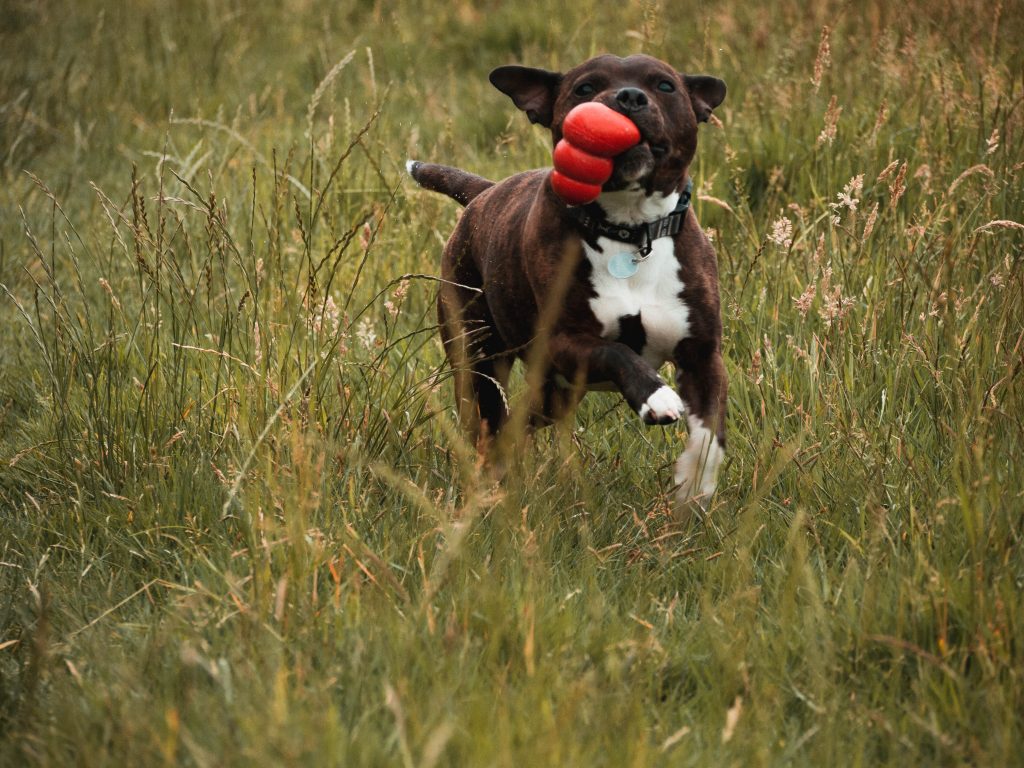 Easy Cooked KONG Treats
These treats are easy to cook up and are a top choice for many dogs.
Chicken Liver – Liver is a favorite meat treat for many dogs. You can buy this in containers at the supermarket, and it's relatively inexpensive. Cook some up plain for your dog, and she'll love it in her KONG.
Scrambled Eggs – On Sundays I make extra eggs for my furry pal. Since my dog is a cheese-lover, I add a little bit in here as well, with some bell pepper. It's like a doggy mini-omelette in the KONG!
Chopped Steak – If you've got a bit of leftover plain well-done steak and rice from dinner, drop them into a KONG instead of tossing them.
Quick KONG Treats
There's not always time for homemade treats. Here are a few KONG easy treat ideas for your dog to chew on when you're in a pinch.
Baby Food – If your baby doesn't want to finish his meat, guess who will? Yup, this is a tasty treat for your doggie.
Canned Salmon – Just grab a can of salmon from your pantry and scoop some into your furry pal's KONG. Some canned salmon can have bones, so just make sure yours does not. Canned salmon will offer the same nutritional benefits as fresh salmon. (It may not be as tasty, but your pooch will still love it.)
Deli Meat (all-natural only) – There's nothing wrong with a quick cold-cut treat of turkey or ham from the refrigerator once in a while. Steer clear of over-processed meats with preservatives though. Also keep this treat in moderation due to the high sodium content in deli meat. A slice or two in the KONG occasionally will do just fine.
Meat & Fish Ideas for Your Dog's KONG
Here are some meat and fish KONG ideas that your dog will love.
Ingredients
1/4

cup

scrambed eggs

1/4

cup

ground beef

1/4

cup

ground pork

1/4

cup

shredded chicken

1/4

cup

chicken liver

1/4

cup

shredded turkey

1/4

cup

ground lamb

1/4

cup

ground chicken

1/4

cup

chopped steak

1/4

cup

fresh salmon

1/4

cup

canned salmon

1/4

cup

canned chicken

1/4

cup

baby food meat

1/4

cup

shredded duck

2

slices

deli meat (all-natural)
Instructions
Select one of the ingredients above.

Ensure fully cooked with NO spices, seasoning, onion, or garlic.

Let cool to a safe temperature, and stuff into KONG.