These easy fruit cobbler recipes taste great, look great, and will wow your guests. If you love fruit cobblers or fruit crisps, you'll love these.
---
Who doesn't love a good and easy fruit cobbler?
NO ONE.
That's who.
There are a lot of ways to make a cobbler, but the basics generally hold true. Something sweet with something crunchy on top.
Done.
Without further ado… awesome easy fruit cobbler (or crisp) recipes
No matter what fruit you have on hand, you'll be able to make something great with these recipes.
This is a dump cake at its finest with a crumble top, and one of our personal Southern faves.
This crisp is a great mix of two fruits. Plus some cream, who can say no to cream, right? The crumble is an oatmeal, flour, butter mixture that makes a great crisp.
This cobbler combines blackberries, blueberries and raspberries and gives the crisp / crumble with biscuits. Southerners love them some biscuits – duh – so this would make for an awesome breakfast casserole.
This crumble crisp is simple, fast, and makes for a low key breakfast with a berry twist. The berries bring the freshness and the flour/oat mixture bring the crunch.
This peach cobbler will be a favorite when peach season comes around. I have family who live in Georgia and they eagerly await the fresh fruit season. Don't let the peaches go to waste just because you can't eat them all at once. Make a cobbler!
This strawberry cobbler is beautiful and tasty. When strawberries are in abundance, make this. The topping is biscuit like (a win!) and the cream tops it all off.
This quick and easy cobbler is crunchy, fruity, and goes great with an ice cream top. If you serve it warm with the ice cream melting, you'll get groans of approvals from everyone you're entertaining.
This beautiful cobbler would make a great breakfast or – even a dessert at a potluck or family gathering. It's fruity, rich, and crispy.
Here's another easy peach cobbler recipe that your guests will love.
This cobbler uses blackberries and is a total crowd pleaser. If blackberry is your fruit of choice, then you'll love this.
This is a great recipe if you're trying to eat healthy and clean but still want a little fruity kick!
This is a great blackberry cobbler recipe that can use fresh or frozen blackberries. Sometimes you want a cobbler even WHEN the fruit isn't in season and this, my friends, is one of those you'll want to make all year.
Oh yes, now sometimes you want to use fresh fruit for your cobblers, but sometimes convenience wins out. Sometimes you don't want to peel a bunch of peaches and you want it to be inexpensive, fast, and easy. This is your cobbler.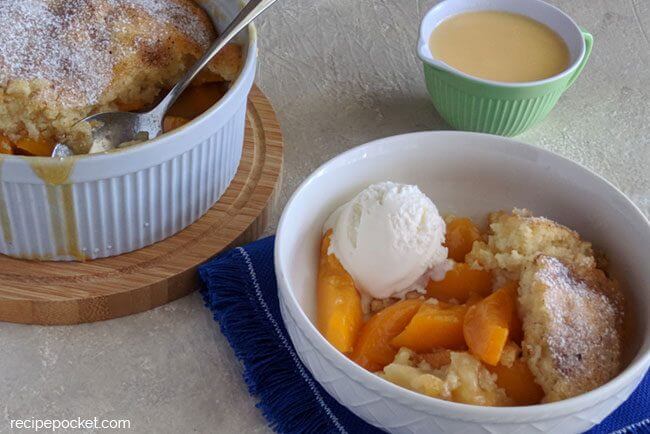 This recipe is beautiful and absolutely guaranteed to get you labeled as a gourmet in your potluck or family gathering circles. Use fresh pears as boats and voila!
Another peach cobbler for the win! Oh and here's ANOTHER beautiful one you've gotta check out.
Here's a cobbler Southerners will love… why? It has pecans. Puh-cahns. That's how we pronounce it. How do YOU pronounce it?
This is a lovely summer cobbler best served with ice cream. If you like serving cobblers hot a la mode (and you're a fan of blueberries) this will hit the spot.
Want to use the instant pot for your cobbler? Look no further than this recipe. Pull out the instant pot if you're in a bind and smell the goodness.
You can even make a cobbler in an air fryer, for goodness sakes. Whatever kitchen appliance you choose, you can't go wrong with a cobbler.
So you don't haaaavveeeee to do this recipe over a campfire, but how fun would that be? It's a cobbler in a cast iron skillet with some whiskey. Could it get more Southern?
This cobbler is one of the most scrumptious things I've seen in a good long while. And you can use fresh or frozen berries as well!
This is a great crisp (similar to a cobbler but with perhaps less breading and more crumble or granola on top). Actually… is crisp what they call cobbler in the UK?
I think so.
This is an excellent easy cobbler dump cake because you only need 3 basic ingredients. Win win.
So there we have it folks…..
The beat easy fruit cobbler recipes you could ever want.