You'll love how easy and tasty these preacher cookies are. When you need to whip up something quick, these are the go-to cookie. They're the perfect no bake cookie!
---
These cookies are an old recipe of the South. It's said that these might have been named "Preacher Cookies" because you can fix a batch quickly, so if the preacher were to drop by for a visit, he could be served right away.
The recipe does require boiling some of the ingredients, so you'll need a stovetop. But you won't need to bake these cookies at any point.
Other Names for These Cookies
So… these look familiar, but you don't call them preacher cookies? This dessert goes by a few different names.
My family has always called them "no-bakes". That's probably the most common name for these cookies.
Preacher cookies are also known as "cow plops" and "cow pie cookies". Maybe you can guess why! If you want to pretty up these cookies a bit, leave out the cocoa and drizzle melted chocolate on them instead. Or, add dried cranberries to the tops after forming the batter into balls.
Substitutions and Additions to Preacher Cookies
There are many more ways to spice up these cookies; here are a few ideas to pick from:
Try adding butterscotch morsels to this recipe, or use them in lieu of the cocoa. Stir them in after the boiling step.
Drizzle melted caramel and sea salt on top.
Shredded coconut is a tasty addition; stir a quarter cup (or more per your liking) into the batter.
Substitute crunchy peanut butter for the creamy peanut butter if you'd like some extra crunch.
M&Ms or Reese's Pieces can be stirred gently into the cookie batter.
Double up the chocolate flavor by stirring in white, milk, or dark chocolate chips after the boiling step.
Other Tips for Preacher Cookies
Brown sugar can't be used as a substitute in this recipe, or your cookies aren't going to properly set. Sticking closely to the recipe should give you the best results. I haven't tried this recipe with other types of nut butter. If you try it out with almond butter, which is usually thinner than peanut butter, you may need to use less.
For the boiling step, boil for exactly one minute. No more, no less. Timing this step accurately will help your cookies set perfectly.
Be sure to use quick cooking oats or instant oats. Old fashioned oats (also called rolled oats) won't work well for this recipe. The Spruce Eats has a helpful guide to the different oat types.
Once you're done dropping your cookie batter onto your cookie sheet lined with waxed paper, pop the cookie sheet into the fridge if you want to hasten the setting process.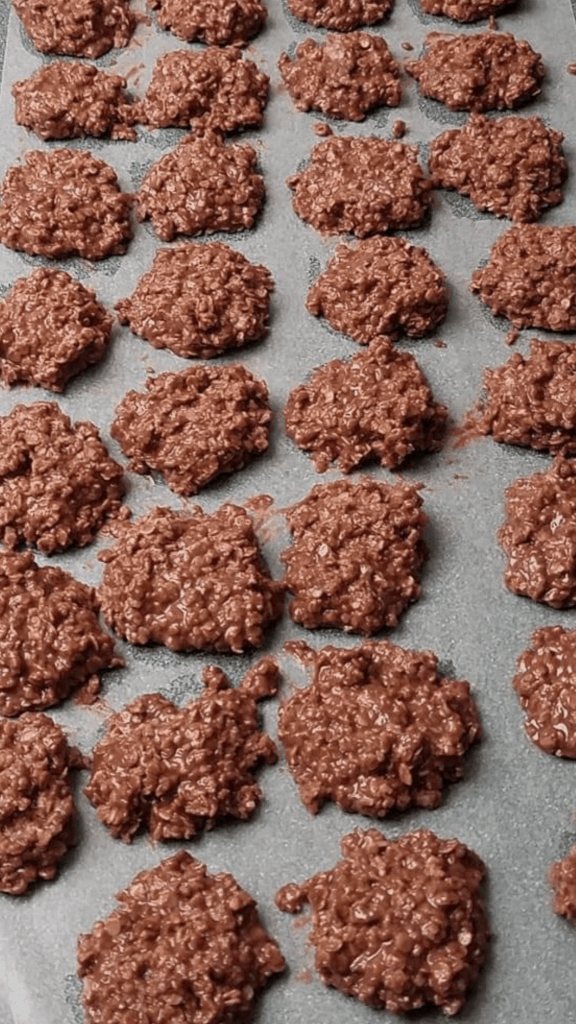 We hope you'll enjoy our no bake Preacher Cookies recipe!
Preacher Cookies
You'll love how easy and tasty these cookies are. They are a no-bake delight! When you need to whip up something quick, these are the go-to cookie.
Ingredients
1/2

cup

unsalted butter

1/2

cup

milk

1.5

cups

white granulated sugar

1/2

tsp

salt

4

tbs

unsweetened cocoa powder

regular or dark

1

tsp

vanilla extract

1/2

cup

smooth peanut butter

2.5

cups

quick oats
Instructions
On your stovetop, melt the butter, milk, sugar, cocoa, and salt together at medium heat.

Turn up the heat to bring the mixture to a rolling boil, and boil for 2 minutes. Remove from heat.

Stir in the vanilla extract. Then mix in the peanut butter until completely mixed in. Lastly, mix in the quick oats.

Using a tablespoon or cookie scoop, drop spoonfuls onto a baking sheet lined with parchment or waxed paper. Let sit for an hour, or until completely set.
Nutrition
Calories:
150
kcal
Carbohydrates:
20
g
Protein:
3
g
Fat:
7
g
Saturated Fat:
3
g
Polyunsaturated Fat:
1
g
Monounsaturated Fat:
3
g
Trans Fat:
1
g
Cholesterol:
11
mg
Sodium:
110
mg
Potassium:
86
mg
Fiber:
1
g
Sugar:
13
g
Vitamin A:
123
IU
Vitamin C:
1
mg
Calcium:
15
mg
Iron:
1
mg