Hello friends! Please bear in mind that some of the links on this page are affiliate links, and if you go through them to make a purchase, I will earn a commission. I've put these links here because of the quality of the products, not because of the commission. The decision is yours, and whether or not you decide to buy something is completely up to you. Thank you for visiting Southern Eats and Goodies!
Here you'll find some Super Celebratory champagne cocktail recipes complete with all the fixings. Southerners LOVE a good party, a good tradition, a good celebration, and a good drink. Serve these great champagne cocktails at your next bash.
---
If you are a Southerner by birth…. you know it's true.
We love a good party.
A good celebration.
Any ole reason to get together and toast something… well… we're there!
If it's a holiday, well, then watch out. We will show up with flair. We want to be the life of the party and we want the party to have life and part of that – not all of it, obviously – is having fun fixins.
That includes champagne cocktails.
Whether you are going to be a Southern Hostess With The Mostess for a party – or if you just want some awesome spritzers and cocktails to mix with your champagne, prosecco, brut… you get the picture, here you go.
25+ Champagne Cocktails For Discerning Hosts
Without further ado, let's dive in. Get out your notepad (or your grocery store app) and start jotting down ingredients.
Drinking Making Tools You'll Use And Love
Blender
Jigger (to measure ingredients)
Strainer (gets rid of pulp)
Bar spoon (to stir deep drinks)
Muddler (to process the herbs)
Citrus juicer
Channel knife (for the fruit spirals)
1. Strawberry Prosecco Slushie
From Snappy Gourmet
Using Prosecco, orange juice, strawberries, and a little bit of honey, this prosecco slushie will be a hit. Certainly one of the best champagne cocktail recipes to whip up on a hot day!
2. Bellini & Rossini Cocktails
From Francine's Place
Having lived in Italy myself and sampled quite a few drinks… these are sure to be a hit. Using the blender for the fruit, this is a mix of Prosecco, juice, and fruit.
3. Prosecco Cocktail With Orange
From Francine's Place
These beauties are mixing champagne with oranges and even a little thyme and cinnamon on the top for flourish. Try THAT out at your next fiesta!
4. Lavender And Prosecco Cocktail Recipe
From Francine's Place
Next time you have a garden party you need to bust this out. This would make any Southern Living or Better Homes & Gardens reader proud. Mix some lavender with prosecco and watch it shine.
5. Cranberry Prosecco Punch
From The Toasty Kitchen
This cocktail mix adds prosecco and cranberries for a super festive holiday mix. You can get cranberries when they're in season and freeze them for year round festive drinks as well. This is one of our favorite champagne cocktail recipes to serve at Christmas.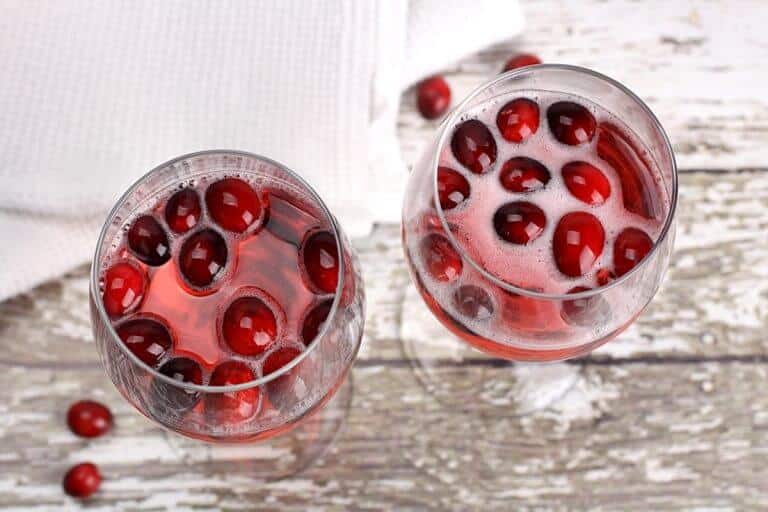 6. Aperol Spritz Champagne Cocktail
From Celebrating Sweets
This is a super fun spritzer that is pretty and even has a "secret" ingredient. That always makes for good party conversation, doesn't it?
7. Champagne Cocktail With Fruit
From Celebrating Sweets
You'll mix prosecco with juice, liqueur, and even some pomegranate seeds or cherries for garnish. It's lovely, sophisticated, and festive.
8. French Kiss Champagne Cocktail
From Served From Scratch
This champagne cocktail involves Prosecco, Raspberry Chambord, and some fresh fruit for garnish. If you are into fresh fruits in your drinks (and who isn't?) then this will suit you well.
9. Strawberry Rose Champagne Wine Cocktail
From Tammilee Tips
This combination of champagne, syrup, fruit, and ice makes a beautiful and sophisticated cocktail. You can line up these spritzers on a bar display or walk around the room serving your guests, either way, your friends will be impressed.
10. Pomegranate Kir Royale Champagne Cocktail
From Zestful Kitchen
Now this is an elegant champagne cocktail. Great for dinner parties, toasting, or celebrating special events. With some champagne, pomegranate liqueur, bitters, and some citrus zest, you're on your way to one fine toasting evening.
11. Blood Orange & Ginger Mimosa
From Zestful Kitchen
Now this drink may need to be saved until New Year's Day BRUNCH because it's a mimosa and all. I couldn't resist including it, however, because it's so dang tasty looking and pretty.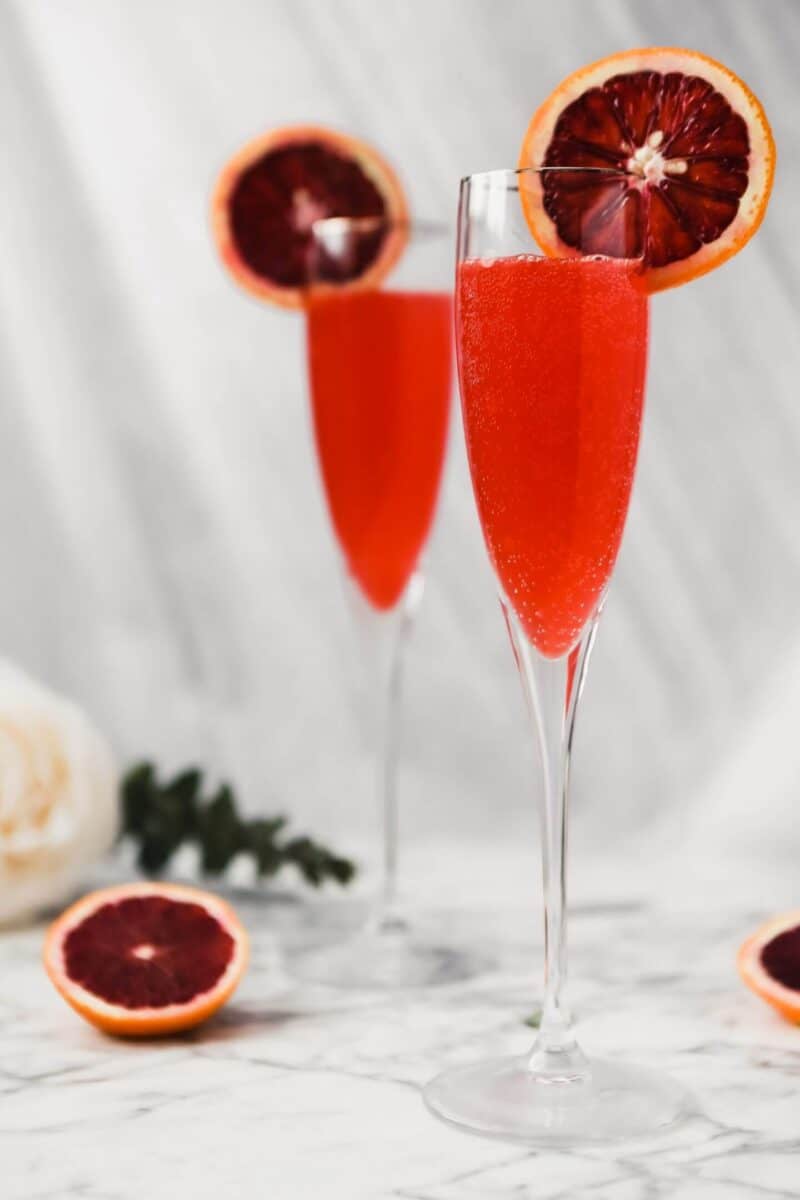 12. Strawberry Rose Champagne Cocktail
From Zestful Kitchen
This is a similar champagne cocktail to the one above, but with a slightly different recipe and variation in flavor.
13. New Year's Eve Champagne Punch
From Sugar & Soul
New Year's Eve Champagne Punch is loaded with Triple Sec, blackberry brandy, Chambord, pineapple juice, ginger ale, and champagne for a drink that's sure to impress all your NYE party guests!
14. Guinness & Champagne Black Velvet Cocktail
From Sugar & Soul
If you've got hard core dark ale lovers in the house, this may be just the drink to serve up at your New Year's Eve bash. Or any bash. Or maybe a dinner party. Or just cocktail hour at your house.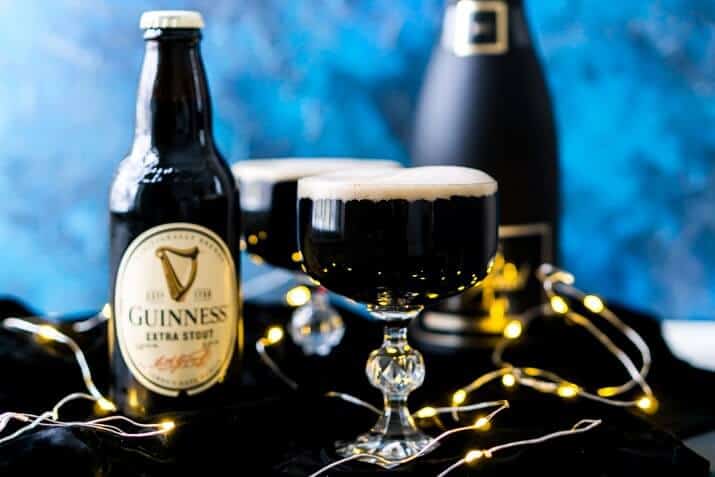 15. Cosmo Mosas Champagne Cocktail
From Carefree Mermaid
This is a lovely drink with some great flavors in it. Many of which you'll already have in your home bar if you like to have some nice cocktails on the weekend. It combines, champagne, vodka, triple sec, cranberry juice, and a couple of twists .
16. Raspberry Lemonade Mimosa
From Crayons & Cravings
This is a lovely drink for the fruit lovers among us. Also great for a brunch of a nice celebratory lunch!
17. Champagne Sangrias
From Big Bear's Wife
Now this really combines the best of both worlds… champagne and fruit. In this recipe you'll use two bottles of champagne, sugar, and with a few fixings and in about 15 minutes you'll have a pitcher full of goodness.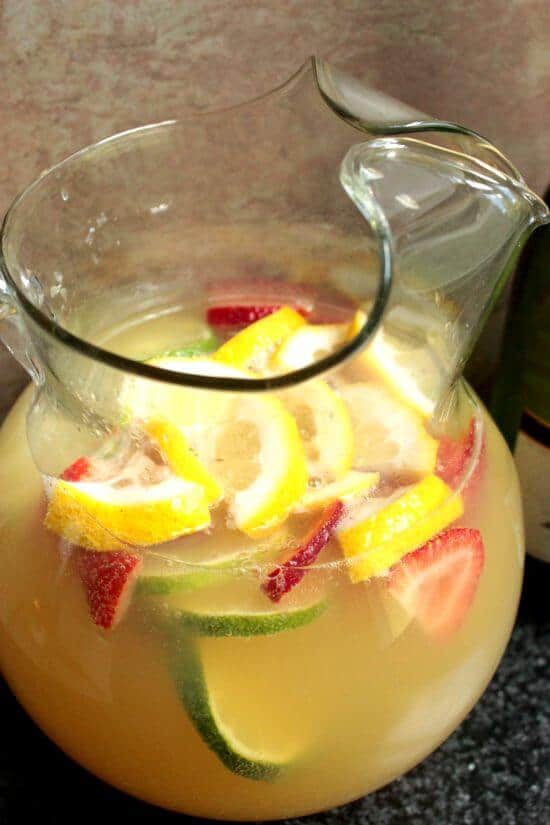 18. Sugar Plum Cocktail
From Foodal
This classic dapper old fashioned looking drink will "fancy up" any party you have. Including your New Year's Eve party. And since it has some espresso, save it for when people start looking tired.
19. Red Velvet Champagne Shake
From Ann's Entitled Life
Oh yeah, baby. If you like champagne and you like ice cream then you're gonna love this shake. It's so good the kids will want to have some. But they can't. That's illegal.
20. Whiskey Champagne Cocktail
From Ann's Entitled Life
Pour some Irish whiskey into some champagne, add some ice and strawberries and, voila, you've got yourself some type of Irish champagne cocktail. I'm sure you could substitute Scotch whiskey too. I won't tell.
21. Champagne Jello Shots
From Ann's Entitled Life
Here's one of the most fun champagne cocktail recipes we've found. For those of you who want to have more of a hoe down and less of a sophisticated party… these jello shots may be calling your name. Oh, who are we kidding… jello shots are acceptable at nearly every type of party. CERTAINLY on your more festive parties like Christmas or New Year's Eve.
22. Pomegranate Mimosas
From Atta Girl Says
This is a mix of pomegranate juice (much easier to get now than in years past), champagne, then garnishing with pomegranate seeds. An elegant and tangy champagne cocktail everyone will enjoy.
23. Low Carb Mimosa
From Our Crafty Mom
This has a fun mix of Prosecco and diet V8 juice which helps contribute to this low carb champagne cocktail. If you are trying to stay on your Keto or low carb diet but still want to celebrate, use this with no guilt.
24. Peppermint Champagne Cocktail
From Food Wine Sunshine
This fun festive holiday drink will help you find something to do with your leftover candy canes. Yes, there is something you can do with those without saving them until next year!
25. Pomegranate French 75
From The Fitchen
This is a sophisticated drink that has a garnish to elevate your style. Mixing gin, lemon juice, champagne, sugar, and pomegranate juice, you get a beautiful drink all your guests will love.
26. Martha May Whovier Cocktail
From Tipsy Chickens
Who hasn't been out… and it starts getting late… and someone wants to order a round of Goldschlager. Well, if you are all up at New Year's Eve… you can do it yourself! This drink combines champagne, triple sec, some goldschlager, and even a bit of edible gold leaf for those high flyers.
27. Pineapple Lime Champagne Punch
From Tipsy Chickens
Here's a crowd pleaser that is guaranteed to satisfy those who love fresh citrusy drinks. Put lime juice, pineapple juice, brandy, champagne, seltzer, and some fruit rings together and voila!
We hope you love this selection of tasty and festive champagne cocktail recipes!
25+ Festive Champagne Cocktails
Here's you're handy list of Super Celebratory champagne cocktail recipes complete with all the fixings. Who doesn't LOVE a good party, a good tradition, a good celebration, and a good drink. Serve these great champagne cocktails at your next bash.
Instructions
Select cocktail from above list.
Need a sweet with your cocktail? Try these favorite cakes: