This chicken pot pie casserole with a biscuit top will satisfy all your family members. It's a comfort meal that's warm and satisfying.
---
Biscuits, chicken, and yummy veggies…does this sound like southern comfort food to you? It should, especially if it comes wrapped up in casserole form. You know we southerners LOVE our casseroles. Not only are they delicious, but they are served in one dish!
No fuss…no muss!! Nothing speaks more about the south than biscuits, chicken, and fresh vegetables. These foods can be prepared a multitude of ways but a casserole is especially a favorite with its juicy goodness and creamy rich flavors.
It is almost synonymous with the term "comfort food". Chicken Pot Pie is a classic dish with down home goodness. In the south we would say, it "just hits the spot".
Another dinner we love is our instant pot chicken and broccoli pasta.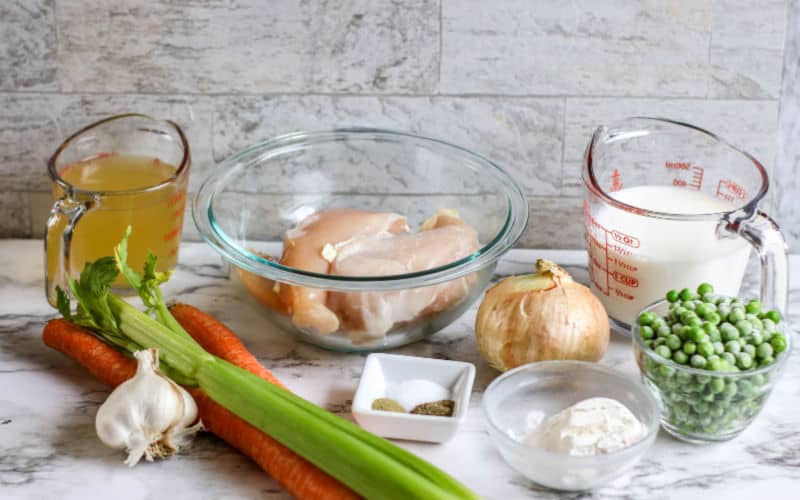 Can I substitute frozen biscuits in this chicken pot pie dish?
While this recipe calls for using home made biscuit ingredients, you can easily substitute frozen biscuits if you prefer or if time is an issue.
Now days there are quite a few brands of frozen biscuits that cook up nicely with a soft center and lightly browned top. They are an easy alternative to making your own dough and still taste delicious.
The choice is up to you and your culinary vision. Possibly try cooking the casserole both ways and see which "biscuit" you prefer. You might even experiment with different types of frozen biscuits from buttery to herb flavored and in between.
We southerners have also been known to use canned biscuit dough in a pinch. Regardless of which route you go, the pot pie will still be delicious. Be creative!!
How far in advance can I make this pot pie casserole?
You can prepare the pot pie the night before and keep in the fridge. Once you have cooked and enjoyed the pot pie, if there are any leftovers, they will keep about 3 to 5 days in the refrigerator if covered with foil or plastic wrap.
To reheat it, preheat oven to 300° and cover edges with foil to keep from burning the crust. Then, to heat a large casserole you would bake for about 15 minutes, then rotate, and cook another 15 minutes to make sure heated through and through.
Smaller pot pies might only need the initial 15- 20 minutes.
Ingredients
Ingredients
1 ½ to 2 pounds boneless, skinless chicken breast
2 carrots, diced
1 onion, diced
1 cup frozen peas
2 stalks celery, diced
2 cloves garlic, minced
½ teaspoon dried thyme
½ teaspoon salt
½ teaspoon black pepper
1 cup chicken broth
¼ cup all purpose flour
1 ½ cup milk
And for the biscuit dough (if you aren't using frozen biscuits)…
Ingredients
For biscuit topping:
2 cups all purpose flour
1 tablespoon baking powder
½ teaspoon salt
6 tablespoons butter, cold
¾ cup buttermilk
Note: If using frozen biscuits, one large package will be sufficient. Just thaw them to a soft doughy texture before using. If using canned biscuits, 1 or 2 eight count cans would be more than you need.
Directions For Chicken Pot Pie Casserole With Biscuits
Directions
Preheat oven to 375°.
In the liner of an electric pressure cooker, place all the ingredients for the filling EXCEPT the milk and flour. Cover and seal the cooker.
Cook using the pressure cook or manual setting on high for 12 minutes. When done, release the pressure.
Gently remove the chicken and place on a cutting board. Cut the chicken into bite size pieces or using two forks shred the chicken. Your choice.
Turn on the saute function of the pressure cooker. Bring the remaining contents of the pressure cooker to a boil.
Stir in the flour until thoroughly mixed and then cook until the sauce starts to thicken. Add the milk and chopped/shredded chicken. Stir carefully to combine.
Let the ingredients boil, but stir often to avoid scorching, for about 5 minutes or until the sauce has thickened and is able to coat the back of a spoon.
Transfer the chicken filling to a prepared casserole dish.
To prepare the biscuit topping, add the flour, baking powder, and salt to a food processor. Using the pulse button combine the dry ingredients. Then, add the butter a slice at a time to the mixture, pulsing to mix. When all butter is added, continue pulsing until the mixture looks like coarse sand. Turn on food processor and add the buttermilk in a continuous flow. Continue to blend until a dough forms.
Divide the dough into 6 to 12 mounds and roll into balls. Pat into biscuit shapes and place evenly across the top of the casserole. NOTE: If you are using frozen biscuits, thaw them out in advance so that the dough is soft before adding to top of casserole. If using canned biscuits, this is where you would place them on top of the casserole similar to prepared biscuit dough.
Bake for 30 to 35 minutes or until the biscuits have browned slightly and cooked through. If desired, brushing the tops of the biscuits with melted butter adds an additional richness to the dish.
Before serving, let the casserole rest for 5 to 10 minutes. This will allow the filling to thicken.
Can I freeze this chicken pot pie?
This pot pie can easily be wrapped tightly with aluminum foil and/or plastic freezer wrap to freeze. You can also place it in a heavy duty freezer bag if desired. When you are ready to cook the dish, take it out and let thaw overnight in the fridge.
Place the refrigerated pie in the oven while it is preheating and bake until cooked completely through.
Great vegetable sides to go with your chicken pot pie:
Chicken Pot Pie Casserole (With Biscuit Top)
This chicken pot pie casserole with a biscuit top will satisfy all your family members. It's a comfort meal that's warm and satisfying.
Ingredients
1.5 to 2

pounds

boneless chicken

skinless chicken breast

2

carrots

diced

1

onion

diced

1

cup

peas

frozen

2

stalks

celery

diced

2

gloves

garlic

minced

1/2

tsp

dried thyme

1/2

tsp

salt

1/2

tsp

black pepper

1

cup

chicken broth

1/4

cup

all purpose flour

1.5

cups

milk
For Biscuit Topping
2

cups

All purpose flour

1

tbsp

baking powder

1/2

tsp

salt

6

tbsp

butter

cold

3/4

cup

buttermilk
Instructions
In the liner of an electric pressure cooker, place all the ingredients for the filling EXCEPT the milk and flour. Cover and seal the cooker.

 
Cook using the pressure cook or manual setting on high for 12 minutes. When done, release the pressure.


Gently remove the chicken and place on a cutting board. Cut the chicken into bite size pieces or using two forks shred the chicken. Your choice.


Turn on the saute function of the pressure cooker. Bring the remaining contents of the pressure cooker to a boil.

 
Stir in the flour until thoroughly mixed and then cook until the sauce starts to thicken. Add the milk and chopped/shredded chicken. Stir carefully to combine.

  
Let the ingredients boil, but stir often to avoid scorching, for about 5 minutes or until the sauce has thickened and is able to coat the back of a spoon.

  Transfer the chicken filling to a prepared casserole dish.


To prepare the biscuit topping, add the flour, baking powder, and salt to a food processor. Using the pulse button combine the dry ingredients. Then, add the butter a slice at a time to the mixture, pulsing to mix. When all butter is added, continue pulsing until the mixture looks like coarse sand. Turn on food processor and add the buttermilk in a continuous flow. Continue to blend until a dough forms.

Divide the dough into 6 to 12 mounds and roll into balls. Pat into biscuit shapes and place evenly across the top of the casserole. NOTE: If you are using frozen biscuits, thaw them out in advance so that the dough is soft before adding to top of casserole. If using canned biscuits, this is where you would place them on top of the casserole similar to prepared
biscuit dough.


Bake for 30 to 35 minutes or until the biscuits have browned slightly and cooked through. If desired, brushing the tops of the biscuits with melted butter adds an additional richness to the dish.

Before serving, let the casserole rest for 5 to 10 minutes. This will allow the filling to thicken








Nutrition
Calories:
374
kcal
Carbohydrates:
37
g
Protein:
25
g
Fat:
14
g
Saturated Fat:
7
g
Cholesterol:
84
mg
Sodium:
637
mg
Potassium:
753
mg
Fiber:
3
g
Sugar:
6
g
Vitamin A:
3130
IU
Vitamin C:
13
mg
Calcium:
173
mg
Iron:
3
mg