When you can't decide between a pumpkin cake or a pumpkin pie, just say "why not both"! This Pumpkin Pie Cake recipe will satisfy both of your cravings.
---
In the fall of the year, I grew up with the smell of pumpkin pie in the air. It might have been at my house, my grandparents' home, or even at a church luncheon. No matter where, I learned to love the rich taste of pumpkin and appreciate the crisp autumn season.
As the saying goes, "Autumn skies and pumpkin pies". Nothing says autumn better than the smell and taste of pumpkin.
Fast forward to more recent times, and the pie has taken a non-traditional turn into a gooey, ooey cake with crunchy topping and the rich taste of pumpkin pie. In my world, this cake "gives 'em pumpkin to talk about".
Watch How to Make Easy Pumpkin Pie Cake
Why not try our apple pound cake with cream cheese frosting while you're making yummy comfort desserts!
Also, we heartily recommend decorating some fun turkey cookies and sweets.
What's the difference between pumpkin pie and pumpkin pie cake?
The big difference is that it ISN'T pie but combines the traditional pumpkin pie taste with a buttery yellow cake.
It also looks more like a sheet cake than a pie. But who is complaining if you get the best of two worlds swirled into one!!
If you're looking for a pumpkin pie DUMP cake, here's one we love. Think of this dump cake as basically as upside down version of our pumpkin pie cake. You just mix the base ingredients together, dump it in a pan, dump the dry cake mix on top, and then dump the butter on top.
What kinds of toppings or garnishes can I serve with the pumpkin pie cake?
This cake is delicious as is with the fall flavors of vanilla, cinnamon, nutmeg, and a crunchy, buttery topping. However, you can change it up and let the colors of fall inspire you to new heights of creativity.
Top the cake with :
a dollop of whipped cream and chopped pecans
fresh sugared cranberries
toasted brown sugar walnuts
peanut brittle or pecan praline – Southern classics
toasted almonds or cashews and dried fruit
Regardless of the topping, this cake delivers on taste and texture.
It practically screams, "Happy fall, y'all"!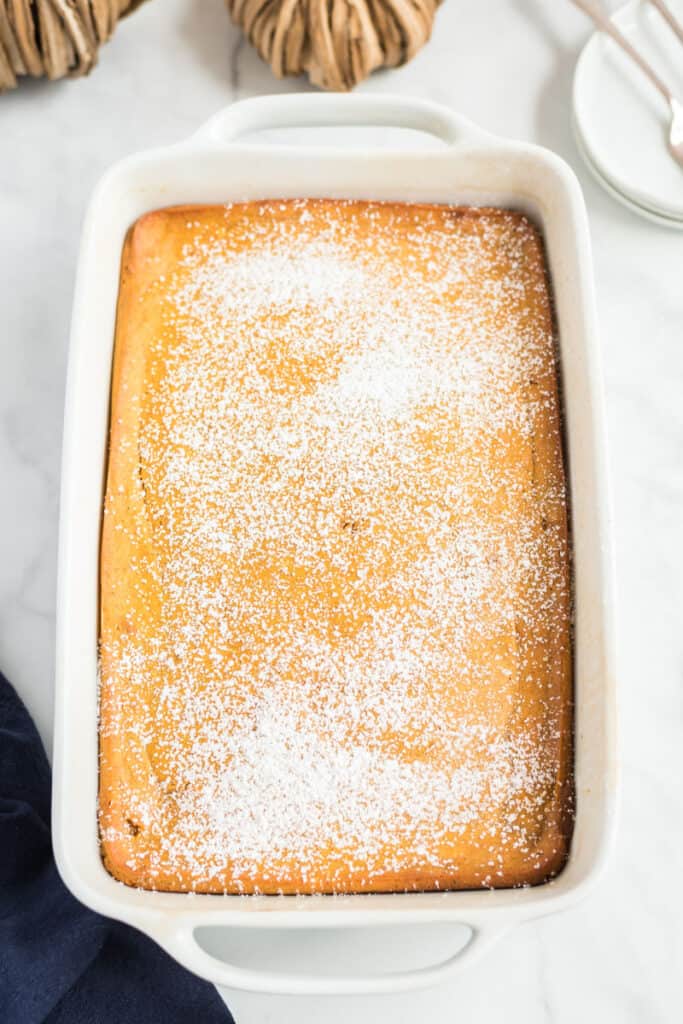 Canned pumpkin vs fresh pumpkin… can I use either?
This recipe calls for canned pumpkin. However, you can certainly use fresh pumpkin. Use the same amount, so for example, use 1 cup of fresh pumpkin in place of 1 cup of canned pumpkin. Follow these tips for preparing the pumpkin puree.
If you're up for the entire experience, visit a local pumpkin farm or shop at a fresh market. Grab the perfect pumpkin and go to town.
And if you do use fresh pumpkin, be sure to save the pumpkin seeds for roasting!
But canned pumpkin is easy and tastes great. Be aware that if you instead buy something called pumpkin pie filling, this will already have the pumpkin pie spice in it, so leave out the spices if you're using this option.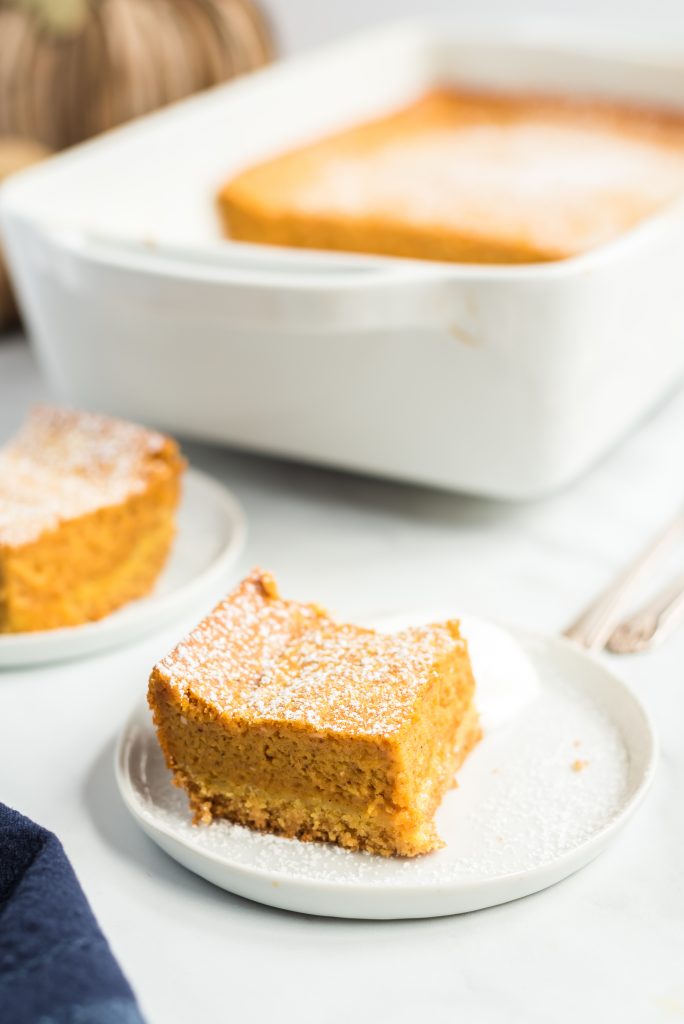 Ingredients
Cake Layer:
1 box of yellow cake mix
1/2 cup butter, melted
1 egg
Pie Layer:
1 (8 oz.) package of cream cheese, softened
1 (15 oz.) can of pumpkin
1/2 cup butter, melted
3 eggs
1 tsp. vanilla
2 cup powdered sugar
1 tsp. nutmeg
1 tsp. cinnamon
Directions
How to make the tasty pumpkin pie cake
Preheat your oven to 350°. Combine cake mix, egg, and melted butter and mix well. You want to get the lumps out. Pat the cake mixture into the bottom of a lightly greased 13 X 9 inch cake pan.
In a large bowl, beat the cream cheese and pumpkin puree until smooth as silk. Add the eggs one at a time followed by the vanilla and melted butter, mixing well. Next, add the powdered sugar, cinnamon, and nutmeg. Once all ingredients are added, give it one last thorough mixing.
Pour the pumpkin mixture evenly over the cake batter. Use a spatula to smooth the pumpkin layer. Bake for 40 to 50 minutes. But beware…don't over bake it. The center should be a little gooey…that's the best part!
Looking for other pumpkin recipes? Maybe another great pumpkin dessert?? Try our pumpkin pecan cobbler! This cobbler is a yummy fall dessert that's great with ice cream. It combines the beloved harvest flavor of pumpkin with nuts.
Easy Pumpkin Pie Cake
This easy pumpkin pie cake combines the best of both worlds (pie and cake!) to give you that excellent pumpkin flavor in a cake texture.
Ingredients
Cake Layer:
1

box

yellow cake mix

1/2

cup

butter

melted

1

large

egg
Pie Layer:
8

oz

cream cheese

softened

15

oz

pumpkin

canned

1/2

cup

butter

melted

3

large

eggs

1

tsp

vanilla

2

cup

powdered sugar

1

tsp

nutmeg

1

tsp

cinnamon
Instructions
Combine the cake mix, egg, and butter in a large bowl and mix well.

Pat the cake batter into bottom of lightly greased 13 X 9 inch baking pan.

In separate large bowl, beat the cream cheese and pumpkin until smooth.

Add the eggs, vanilla, and butter, mix well.

Next add the powdered sugar, cinnamon, and nutmeg. Mix well.

Spread this pumpkin pie mixture over the cake batter and smooth with a spatula.

Bake for 40 to 50 minutes. 
Notes
Don't over-bake the cake — the center should be a little gooey. 
You can also refrigerate the pie and serve later…garnished with the perfect touches of fall. 
Nutrition
Calories:
354
kcal
Carbohydrates:
44
g
Protein:
4
g
Fat:
19
g
Saturated Fat:
11
g
Polyunsaturated Fat:
1
g
Monounsaturated Fat:
5
g
Trans Fat:
1
g
Cholesterol:
93
mg
Sodium:
400
mg
Potassium:
147
mg
Fiber:
1
g
Sugar:
30
g
Vitamin A:
2875
IU
Vitamin C:
2
mg
Calcium:
100
mg
Iron:
1
mg
This recipe was first published in Cancer Freeze: Cookin' For A Cure. Printed with permission.