This ambrosia fruit salad contains non-traditional ingredients for a fresh new taste. Strawberries, blueberries, and bananas are the stars of this dish.
Fruits in Ambrosia
Ambrosia brings back memories of summers in the South. It's a favorite easy dessert for many Southerners, especially for occasions like pot lucks and backyard barbecues. I remember having traditional ambrosia as a child; it contained those cute little mini-marshmallows, mandarin oranges, pineapple, and coconut. And it was pretty good. But come back an hour later for another scoop, and you'll find it turned into fruit sitting in a pool of liquid. Yuck.
We've changed up the ingredients to give this old favorite a makeover. We now have a tasty and longer-lasting dessert that won't break down quickly. In lieu of the typical fruit ingredients, we're using strawberries, blueberries, and bananas.
Testing Out the Ambrosia Consistency
After making this ambrosia, I let it sit on my counter for a couple hours, to see if it would get runny. The consistency didn't change. This selection of fruits along with the full-fat sour cream kept it just right.
This is a dessert that should be made same-day, and kept cool until it's time to eat. But I wondered what would happen with leftovers, so I placed a serving in my refrigerator to see how it would stack up the next day. I was happy to find that the consistency was the same as when I first made it. The banana though, as you might expect, had gotten a little soft. If this is a dessert you're planning to make for your family to eat over the course of a few days, leave out the banana. Blackberries or mulberries would be a nice replacement.
Other Tips for Making the Ambrosia Fruit Salad
This recipe makes a small batch; about 6 servings. You can easily double or triple all ingredients for the amount of folks you need to serve.
I suggest using more sour cream than cool whip, so that your dessert doesn't come out too sweet, or tasting strongly of cool whip. I'm using an 8:7 ratio for this recipe, and it gives a pleasantly sweet result. You could bring it to 8:6 and it would have a nice tartness and less sweetness.
For best results, use full-fat sour cream. The fat-free and low-fat versions are thinner and have a bit of a different flavor.
Use a banana that's still a little green; firmer is better for this recipe.
Chop the fruits and pecans in the sizes shown below to be sure to get some of everything in each scoop.
You can add the traditional dried coconut flakes to this recipe if desired – they work well with the other flavors.
A Festive Dessert
Adding the extra strawberries and blueberries on top are a must when this dessert is served at gatherings for patriotic American holidays such as Memorial Day, 4th of July, or Patriots' Day. It will really brighten up your dessert table for any occasion!
And while I love the colorful mini-marshmallows, if you want to have a strictly red, white, and blue dessert, definitely go with the white mini-marshmallows for your ambrosia fruit salad.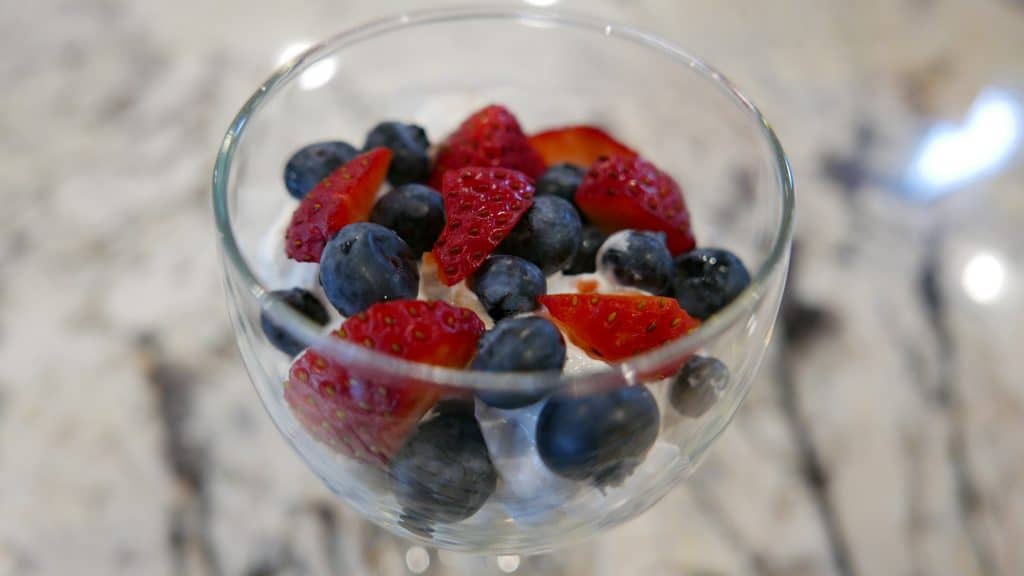 We hope you'll enjoy our version of Ambrosia Fruit Salad!
Berry Ambrosia
This ambrosia fruit salad is a refreshing summer treat and is different than your grandma's recipe. It contains blueberries, strawberries, and bananas.
Ingredients
3/4

cup

blueberries

plus 1/4 cup for topping

3/4

cup

strawberries

plus 1/4 cup for topping

3/4

cup

bananas

can substitute with blackberries or mulberries

1/4

cup

pecans

1

cup

mini-marshmallows

8

oz

sour cream

7

oz

cool whip
Instructions
Dice your strawberries and bananas into small bite-size pieces and set aside.

Chop your pecans into small pieces and set aside.

Fully stir together the sour cream and cool whip in a medium size bowl.

Gently stir in the bananas, strawberries, blueberries, mini-marshmallows, and pecans.

Spoon into serving bowls or glasses and top with the additional strawberries and blueberries.
Notes
If desired, you can also add shredded dry coconut to this recipe.
Nutrition
Calories:
210
kcal
Carbohydrates:
25
g
Protein:
3
g
Fat:
12
g
Saturated Fat:
6
g
Cholesterol:
25
mg
Sodium:
61
mg
Potassium:
215
mg
Fiber:
2
g
Sugar:
16
g
Vitamin A:
320
IU
Vitamin C:
14
mg
Calcium:
85
mg
Iron:
1
mg