These appetizers are great for your football gathering and other game day events. For when you want more than just a bag of chips with your pizza. Fun, tasty, and shareable, these are munchies for the whole crew to enjoy!
---
What's your favorite sport to kick back and watch? Down South, football is our main thang. Whether high school, college, or NFL…our football teams are our pride and joy, and football season is pure magic. You might say we're a little…obsessed.
There's not much that can make football season any more fun, except for…well… maybe some delicious apps to enjoy while watching the game.
To help make your game day food planning a little easier, we've compiled this list of our favorite appetizer recipe ideas. So whether you need a Super Bowl appetizer, some snacks for watching the Final Four, or treats for the World Cup, we've got you covered.
Bacon Ranch Cheeseball
In the South we LOVE bacon and Ranch dressing! You will find us topping almost anything with bacon and dipping almost everything else in Ranch dressing!
So this combination in a tasty cheese ball is double the pleasure…double the yum!
Bacon Ranch Cheeseball
This bacon ranch cheeseball is tasty, more-ish, and a great appetizer to serve at parties, potlucks, and anytime you want to break out a cracker.
Check out this recipe
Bacon Jalapeño Popper Pinwheels
Our Bacon Jalapeño Poppers are perfect for Game Day… or really any occasion where a tasty appetizer needs to be served up!
Our version of the traditional jalapeno popper is a pinwheel that uses crescent dough for this treat. It's easy to make and is a savory snack.
Bacon Jalapeno Poppers – Pinwheel Style
These popper pinwheels include bacon, jalapeños, cheese, and crescent dough to produce a tasty appetizer that will delight your whole crew.
Check out this recipe
Dried Beef Cheese Ball
Yes, we have another cheese ball for you! (And one more later as well!) This one is so easy with only 4 ingredients – dried beef, green onion, mustard, and cream cheese. Score!
Dried Beef Cheese Ball
This dried beef cheese ball is perfect for parties, get togethers, game days, and really… any time you want people to congregate.
Check out this recipe
Charleston Cheese Dip
Let's admit it…who doesn't love an ooey, gooey cheese dip? Most Southerners will queue up to the table to munch down on a good creamy cheese dip served with crackers, bread, or chips! And regardless of where you're from, we think you're gonna love this namesake dip of Charleston.
Charleston Cheese Dip
This Charleston cheese dip will start off any party with a big bang. It's cheesy and more-ish, easy to make, and absolutely divine.

Check out this recipe
Crispy Fried Chicken
Crunchy? Juicy? Flavorful? Yep, all of the above. Our crispy fried chicken recipe will knock your socks off! This recipe uses a brine that will lock in all that wonderful juiciness and deliciousness.
Southern Crispy Fried Chicken Recipe
This fried chicken recipe will give you all the tips you need to get the crunchiest, juiciest, and most flavorful fried chicken!
Check out this recipe
Pimento Cheese Dip
This dip is easy to prepare and simple to serve. It's great for informal gatherings and makes a great finger food when served with crackers. Excellent for when you don't want to spend tons of time on an appetizer, but are ready to make something snacky that people will love.
Pimento Cheese Dip
If you've been in the South long you know we love our pimento cheese. Here's a pimento cheese dip that'll please the crowds at any potluck.
Check out this recipe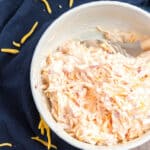 Baked Turkey Meatballs
Who doesn't love a yummy meatball app? Pair these with some tangy mustard dip, creamy garlic sauce, or traditional tomato sauce for a delicious appetizer that your friends and family will love!
Baked Turkey Meatballs
These oven baked turkey meatballs are great additions to a healthy dinner or even as a meaty appetizer. Easy and tasty.
Check out this recipe
Pineapple Cheese Ball
Here's our third cheeseball for you! (Can you tell we love our cheese??)
Everyone enjoys a great appetizer to nibble on while watching the game, or during any party or special event. The tropical taste of pineapple, the rich smooth flavor of cream cheese, and the savory goodness of ham make this cheeseball a great start to any occasion.
Pineapple Cheeseball
This pineapple cheeseball is a party favorite. It's fresh, citrusy, and a perfect combination of salty and sweet that tastes good on a cracker.
Check out this recipe
Deviled Eggs
Deviled eggs are a Southern Thing. If you were born or raised in the South, chances are you grew up on and love deviled eggs.
They're the perfect party appetizers for your Superbowl party or other friends and family gatherings. They are easy to prepare and transport!! A win-win!
You can even make these into little footballs. Just leave off the paprika, and pipe thin lines of wasabi sauce on top in the design of football laces.
Southern Deviled Eggs
Want to make some southern deviled eggs that are easy, fast, healthy and yummy? Use this recipe for your next picnic or potluck.
Check out this recipe
Buffalo Chicken Dip
This buffalo chicken dip is my personal favorite. It's so easy and is always my go-to Super Bowl food to make every year. It's loaded up with blue cheese and has a great kick to it.
Grab your crock pot and try this one out. Perfect with your favorite tortilla chip.
Buffalo Chicken Dip
This classic Game Day appetizer is made in the slow cooker and has plenty of bleu cheese. Also perfect for any time you need a delicious dip for a gathering of friends or family.
Check out this recipe
Our Other Favorite Game Day Appetizers
Here are more Super Bowl snack ideas that we love from other places across the Web!
Sheet Pan Nachos
These nachos are loaded with the ingredients we love. And I always top mine with ALL the good stuff – guacamole, melted shredded cheese, hot sauce, and sour cream…yum!
Spinach Artichoke Dip
This creamy dip is a must for any game day gathering. If you haven't tried making spinach artichoke dip in the past, try out this recipe for your first go at it – it's super easy!
Fried Pickles
These pickles are fried…in the air fryer! Don't forget your favorite Ranch or chipotle dip.
Bacon Wrapped Dates
Here's a unique combination of two delicious foods – bacon and dates! Maybe wrap some pineapple chunks, scallops, and shrimp while you're at it!
Buffalo Wings
And last but certainly not least, what's a party without buffalo wings?! These spicy chicken wings are baked in the oven and are super crispy.
Did we include your favorite game day appetizers? Let us know in the comments!
Game Day Appetizer Ideas
Here we have our whole list of favorite appetizers for your football gathering and other game day events. Fun, tasty, and shareable, these are munchies for the whole crew to enjoy!
Instructions
Pick your appetizers from the list above.

Follow the link to view the recipe.