Want some yummy KONG fillers for your canine friend? These kong stuffing recipes and ideas will give your little one something to chew on, in an instant! They're perfect when you need your pup calm or want to teach "settle."
---
The dog.
There is so much in Southern culture surrounding man's best friend.
Old Yeller…
Blake Shelton songs…
Elvis Presley songs…
Expressions we love, like… "I ain't got a dog in this fight" or "Run with the big dogs or stay on the porch."
I'll never forget the day my dog trainer at Puppy Kindergarten told me about the kong.
That she was grooming her German shepherd and he was getting antsy and – BHAM – enter the Kong and some peanut butter and calm calm puppy.
I was like DO YOU SELL THOSE, I NEED ONE TWO DAYS AGO.
See we have a Newfiedoodle puppy who was supposed to be calm and patient and gentle and guess what? He ain't. He's highly energetic, slightly rowdy, and overly confident.
In other words, he's me except a dog and male and, well what did I expect?
So, I got the Kong and that was that. But then… whatever to fill it with? Time to whip up some kong stuffing ideas!
Why do you use KONGs with dogs?
You can, of course, simply give your dogs this food. And that's fine too!
Putting snacks into Kongs is a great thing to do if you are wanting to give your dog a job to do. My trainers said my particular kind of dog (a doodle mix) is smart and needs work. So by stuffing food into the Kong you turn their dog toy into a slight puzzle or challenge.
It extends the amount of time the snack lasts.
Fill your dog's Kong toy with whatever tasty treat you desire or have on hand, and let your dog get busy eating.
It helps you teach your dog to settle because while they're eating… they're settled.
Super Popular KONG Fillers
Without further ado… here are some kong fillers your dog will love.
And a stuffed kong gives your dog something to focus on if you want to teach them. So, for example, if you want to teach your dog to settle. You can put a doggy bed by the couch and, with your puppy on a leash (so they don't get away), put the Kong on the doggy bed.
Natural Peanut Butter
This is a no brainer kong filler and dare I say a kong classic. It is likely the first thing you are recommended to put into the Kong. My trainer said if she needed to bathe her dog, she'd slap some peanut butter on the top of the tub.
Genius.
Most peanut butter is safe as dog treat, and in moderation peanut butter can be an excellent source of protein and healthy fats, vitamins B and E, and niacin.
The healthiest option is unsalted peanut butter or homemade peanut butter, as high sodium levels can be problematic for dogs, and as an added bonus, homemade peanut butters do not contain extra sugar and other additives. (source)
Homemade Dog Treats
Let your dog enjoy those yummy treats you made him last weekend, in his Kong! Here we show you how to make our Peanut Butter Bacon Dog Biscuits, which can be broken up and added to the Kong.
We have a whole list of over 35 vet approved homemade dog treats for you to check out as well!
Cheese Whiz

This isn't exactly an organic choice for your dog, but as a treat, it's definitely something your pup will love. It is also, if I'm honest, super fun to squeeze.
What can I say?
This is also something great to take with you while traveling because it doesn't require refrigeration and you can pull it out in a pinch. The KONG company even sells their own!
This is in Moose's top 2 fave KONG fillers!
Canned Wet Dog Food
This is, by far, Moose's favorite kong stuffing. I bought the Cesar brand canned dog food from Wal-Mart and have had great luck. He went to town on this – and actually contributed to his positive association with the KONG!
Love at first taste.
I definitely do this for Moose on the reg when I need him to calm down and settle, but not so much it disrupts his actual eating schedule.
Dog Kibble
We like to treat Moose because he's very food and treat motivated and one way to dole out treats that takes a bit longer and requires a bit more work for him is to cut up the treats small enough they go into the KONG but not so small they fall out too easily.
Our trainers even encouraged us to freeze them, but I'm not that cruel of a dog mom. YET.
Dairy (Or Dairy Substitute ) KONG Fillers
Cottage Cheese
Start small and make sure yours doesn't have any intolerance to dairy. Test with smaller amounts and watch for any signs of intestinal upset. (source)
This is also bound to be a fairly messy stuffing so you might want to save this for an outdoor treat or one that puppy has on the tile floor in the kitchen when you need to keep him occupied and not barking.
Greek Yogurt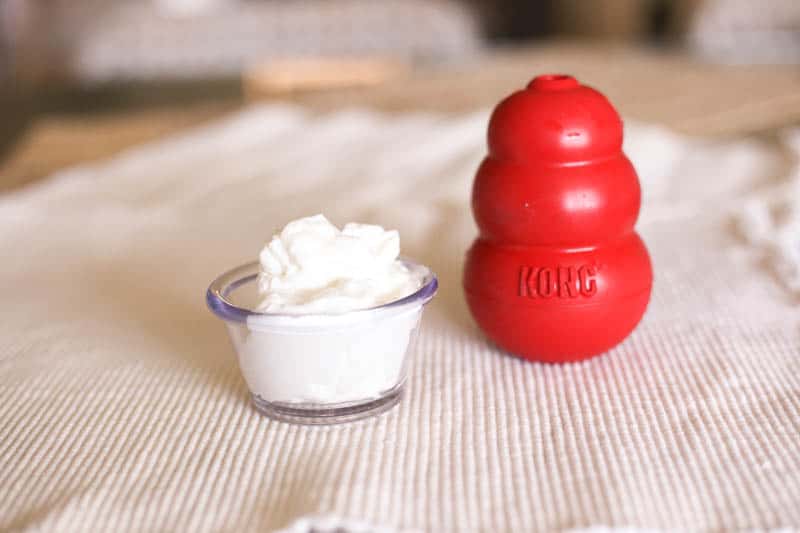 Greek yogurt is the safest type of yogurt for your dog to eat as there is no added sugar. It can taste a bit tart, so fill the kong a bit and see if your dog will take it before filling it up too much. (source) Plain yogurt is a great option to avoid any artificial sweetener.
Coconut Whipped Cream
If you want to give your dog a sweet cream treat but are steering clear of dairy, this is a great idea. You'll get a high quality coconut cream, chill it overnight, then whip it into soft peaks.
Your dog will need to eat it all in one sitting (or spread it among a few dogs if you are a Multi Dog Mama) because it won't keep, but it'll be sure to be a fave.
Here's how to make coconut whipped cream for dogs.
Nice Cream
Some ice cream – particularly vanilla with no sugar added is said to be the safest – is fine, but too much and we're into sugar overload territory.
Enter… nice cream.
It's essentially dairy free "ice cream" because it has that cold creamy tasty consistency. Your dog will love this, even if they're lactose intolerant or you're avoiding dairy with your dog altogether.
Making this is easy. Peel a banana and pop it in the freezer overnight. Put it in your food processor or blender the next day, and viola! We have nice cream for our furry best friend.
Veggie And Fruit KONG Fillers
Here are some veggies and fruit kong stuffing that will thrill your pup.
Pumpkin Puree
This stuff is so easy to come by, particularly during the fall season, but a can of this will be good for one or two Kong stuffing fills, depending on how long you want to occupy your little one. It'll also give the crate a lovely scent.
Sweet Potato Puree
This is similar to pumpkin puree but with, you know, sweet potatoes.
Don't buy canned yams because those have added sugar which isn't great for dogs, although a tiny bit likely won't hurt. If you are cooking sweet potatoes for dinner or roasting them, you can set some aside, mash, and shove into the KONG.
Sweet potatoes are safe for dogs, even those with food allergies (source) and you can even dehydrate sweet potatoes to make some crunchy canine chips.
Beans, Beans, And More Beans
Don't serve your doggie canned beans as they are filled with sugar and additives. However… you can serve beans that have been soaked and cooked. If you have extra from your own dinner, that is.
To avoid a lot of gas, serve beans in moderation, but you can fill the Kong with some COOKED beans (green beans, pinto, garbanzo). Read about the particular type of bean you'd like to serve to be sure. (source)
Bananas
Bananas are inexpensive and high in fiber, potassium, vitamins, biotin, and copper. (source). They are a tad messy, but will be a great surprise in the kong for your pup.
You can mash them a bit with a fork then stick them in.
Blueberries
Blueberries are a source of rich antioxidants and safe for dogs.
Warning: these will make a mess. If you want to put blueberries into your Kong then you might want to let the dog eat it outside or somewhere you aren't worried about staining rugs, pillows, or throws.
Cucumbers
Cucumbers can be pulled from your salad, squished up, and put into the KONG as well. This is a light refreshing snack and great if you are worried your dog is overweight.
Some dogs simply become unhealthy in many ways if they are slightly over weight (think hips!) so this is a nice snack you won't have to feel guilty about.
Carrots
Carrots that are hard are a great thing for teething puppies, but you can also cook the carrots or give the dog leftovers from dinner, mashed a bit.
Watermelon
I don't know who DOES NOT love watermelon.
Personally, we eat it with some salt to bring out the flavor, but I wouldn't recommend that for the dog. Cut the watermelon into small ish pieces, mash them a little, and put them into the Kong. Great for a hot summer's day!
KONG Recipes
All the foods above are single ingredient KONG fillers and stuffers. They will go straight in the KONG. Here are some kong stuffing recipes or combinations of food that dogs love that you can put into the KONG.
Sometimes you can shove what you cooked for dinner in your KONG, but be sure you aren't serving your pup foods that are toxic to dogs.
Pumpkin and sweet potato. You can mash them up or put the purees in, either way this is a healthy treat.
Applesauce and oatmeal. You can freeze this so it doesn't leak out, but this is a great and filling combination kong recipe.
Blueberries and bananas. A popular combination in desserts. Mash up the banana and blueberries together until they're more of a paste.
Cauliflower and broccoli. If you have these leftover from dinner, blend them together until they are more of a soup and put it into a KONG
Steak and rice. Yes, meat also works as a kong filler and has that uniquely irresistible flavor! This is a great way to use your leftover meat. If you've got some left over from dinner, drop them into a KONG instead of dropping them on the floor.
Pineapple and strawberries. For a sweet fresh summer treat, put these into the KONG mashed or not!
You can also put essentially any combination of the fillers from above together into a KONG too.
Remember, a good rule of thumb for any kong recipe, if in doubt… ask your vet whether a certain food will be harmful to a dog. These KONGs will keep dogs busy for a long time and are a good crate companion.
How To Clean KONGs After They've Been Filled
KONGs are dishwasher safe, and you can put them on the top rack.
You can rinse with warm water and dish soap.
If there is dried food inside that won't come off easily, you can also use a bottle brush to get it clean.
KONG Stuffing Ideas & Easy Recipes
Want some yummy KONG fillers for your canine friend? These recipes will give your little one something to chew on, in an instant!
Ingredients
1/2

cup

peanut butter

1/2

cup

cheese whiz

1/2

tin

wet dog food

1/2

cup

dog kibble or treats

1/2

cup

cottage cheese

1/2

cup

greek yogurt

1/2

cup

whipped coconut cream

1/2

cup

pumpkin puree

1/2

cup

sweet potato puree

1/2

cup

beans

(not canned) but soaked and cooked

1/2

cup

banana

smashed

1/2

cup

blueberries

smashed

1/2

cup

cucumbers

1/2

cup

carrots

hard, to help with teething or cooked and mashed

1/2

cup

watermelon

this will make a mess, but dogs love it
Instructions
Choose one ingredient from above (or mix if you want to get creative) and stuff it into the KONG.
Notes
Don't stuff it down too packed or pup will have a hard time getting out the food at the bottom and it'll be more difficult to clean.
You can clean the KONG by putting it into the dishwasher. It is dishwasher safe on the top rack. 
I generally put it into a pot full of water in the sink to loosen up any food particles then simply rinse with warm water. This works as well. 
Test out which flavors or foods your dog prefers. 
Nutrition
Calories:
1270
kcal
Carbohydrates:
116
g
Protein:
63
g
Fat:
71
g
Saturated Fat:
16
g
Cholesterol:
23
mg
Sodium:
1118
mg
Potassium:
2788
mg
Fiber:
23
g
Sugar:
58
g
Vitamin A:
57241
IU
Vitamin C:
65
mg
Calcium:
359
mg
Iron:
6
mg