Hello friends! Please bear in mind that some of the links on this page are affiliate links, and if you go through them to make a purchase, I will earn a commission. I've put these links here because of the quality of the products, not because of the commission. The decision is yours, and whether or not you decide to buy something is completely up to you. Thank you for visiting Southern Eats and Goodies!
This pickled cabbage recipe is fast (hence the quick pickle) and leaves yummy cabbage you can keep in the refrigerator for weeks.
---
Some type of pickles have been around for thousands of years, dating as far back as native India where cucumbers were pickled in the Tigris Valley.
Pickling is a quick method for capturing delicious flavors and spices, canning them, and enjoying for days!
While pickles may have been around for a long time, the types of veggies being pickled have changed as cooks get more and more creative. These pickled cabbages take a southern veggie and give it a new twist!
What to eat with your refrigerated pickled cabbage
Pickled cabbage are tasty alone but can be paired with other dishes to complete your summer menu.
Side dish with ham, pork chops, or beef roast
Add to a relish tray with cheese and crackers
Side with scrambled or fried eggs
Taco topper
Add to BBQ sandwiches, burgers, or fish
Benefits of eating pickled foods
Pickles are overflowing with crunchy, briny deliciousness. Studies show that pickled veggies are loaded with probiotics for a healthier gut.
Although cooking can break down some of the nutrients, the fermentation process preserves their nutritional value and fighting power.
Pickle juice — the brine — yields even greater amounts of radical-fighting and immune boosting antioxidants C and E. Maybe that is why frozen pickle juice was so popular when I was in high school…as the saying goes, "You had me a pickles"!
Your cookware matters when pickling!
Do not use reactive cookware or storage containers such as aluminum or copper pots. These, when combined with vinegar, create toxic chemicals.
Instead, use stainless steel or ceramic cookware.
I also recommend these mason jars for your pickled goodies!
What you need to pickle cabbage
Ingredients
To pickle cabbage you need a fresh head of cabbage (we prefer purple for color), mustard seed, cloves, black peppercorn, celery seed, a cinnamon stick, bay leaves, and a yellow onion.
These ingredients all combine together in a vinegary brine to make appetizing and crunchy cabbage pickles that will delight you and your family.
How to make the brine for quick pickling
You boil the vinegar when pickling so that it is hot enough to penetrate the fruit or vegetable being pickled. It's the same principle seen in making tea. Hot water steeps more intensely than cold water.
Be careful not to over boil. The flavor and pickling comes from the vinegar, and boiling it for too long will cause the vinegar to evaporate.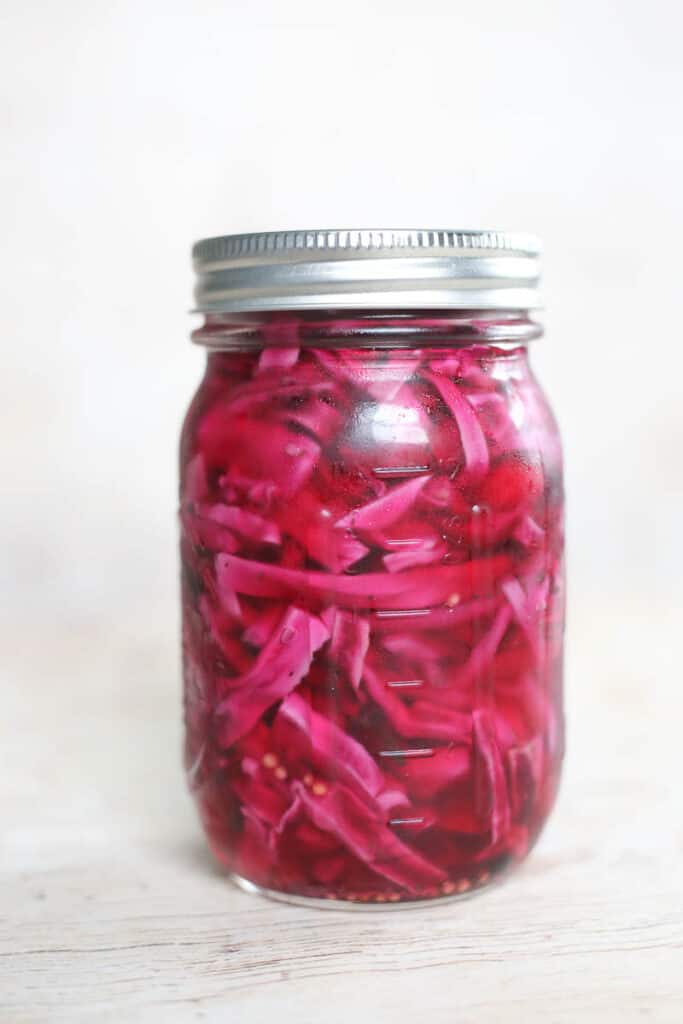 Here are some quick pickle brine ratios that work
Here is one general quick pickling brine ratio.
2 parts vinegar
6 parts water
1 part salt
1 part sugar
Here's another that produces equally good quick pickles.
4 parts vinegar
2 parts water
1 part sugar
And, another.
6 parts vinegar
6 parts water
2 parts sugar
1 part salt
Our other refrigerated quick pickles!
Pickled Cabbage
This pickled cabbage recipe is fast (hence the quick pickle) and leaves you yummy cabbage you can keep in the refrigerator for weeks.
Ingredients
Cabbage Mixture
1/4

head

purple cabbage, small

can use green as substitute

1/4

tsp

mustard seed

whole

2

each

cloves

whole

1/4

tsp

black peppercorn

1/4

tsp

celery seed

1/2

stick

cinnamon

2

each

bay leaves

1/4

each

yellow onion

thinly sliced
Vinegar Brine
1

cup

white vinegar

1

cup

water

2

tbsp

sugar

1

tbsp

salt
Instructions
Cabbage Preparation
Wash the cabbage and shred thinly into bite-size pieces. You're going to use enough (depending on the specific size) in this recipe to fill 16 oz. jar.

Add the cabbage, mustard seed, cloves, black peppercorn, celery seed, cinnamon stick, bay leaves, and yellow onion into your jar. Don't worry that the spices settle at the bottom, they will rise up again and evenly distribute their flavor when you add the brine.
Preparing the Brine
Mix the vinegar, water, salt, and sugar in a stainless steel pan and bring to a boil.

As soon as it reaches a good boil, pour it over the cabbage mixture in the jar until the cabbage is just covered.

Put the top on immediately and put into the refrigerator.

Leave in refrigerator overnight before eating.
Notes
You can substitute green cabbage if desired or purple not available. It will have a different look and be slightly less sweet and soft than the purple cabbage. 
Nutrition
Calories:
190
kcal
Carbohydrates:
32
g
Protein:
2
g
Fat:
1
g
Saturated Fat:
1
g
Sodium:
7015
mg
Potassium:
93
mg
Fiber:
4
g
Sugar:
24
g
Vitamin A:
124
IU
Vitamin C:
2
mg
Calcium:
61
mg
Iron:
2
mg