This old fashioned golden syrup cake is easy to make, super simple, and a great comfort food. Granny's recipe is one passed down you'll love making.
---
Syrup is a staple in the South used with pancakes, biscuits, waffles, and oatmeal. My children have even been known to put it in their morning cereal.
It conjures up images of family around the table sharing a meal, their lives, and laughter…making memories.
This particular cake recipe comes from an extended family member known to everyone as "Granny". She was a wonderful, down home cook that loved to bake and share meals with those she loved. She passed her recipes down to her grandchildren and they to their children.
There is just something special about preparing something inspired by those who have gone before us. It's like family history in a tasty bite!
Watch How to Make the Syrup Cake
This syrup cake is a great comfort food
This cake is simple but tasty and makes me think of a warm fire on a cold night. I can see myself wrapping up in a soft blanket sitting in my comfy chair with a sampling of this cake.
It is the picture of contentment and relaxation…characteristics of any true comfort food!
And if you like comforting Southern desserts, try our bread pudding as well.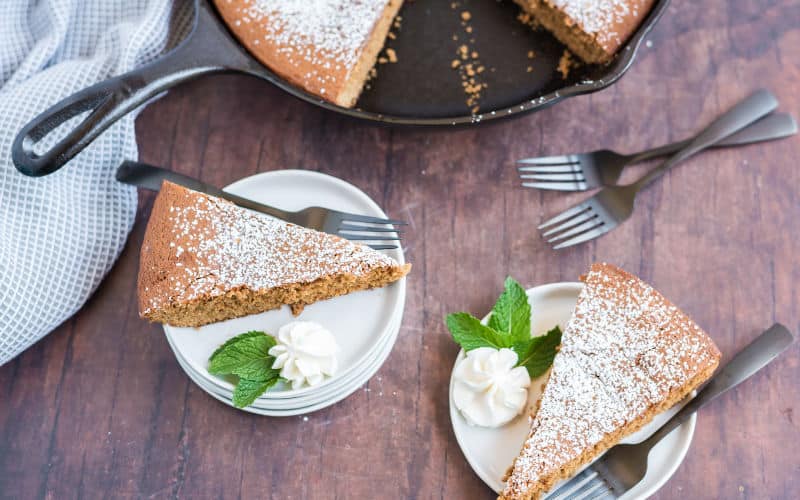 Substitutions for cane syrup
If you don't have pure cane syrup on hand, you can choose from other options. Just do your homework so that you use correct amounts of the substituted item, since it may not have the same sweetness levels, flavor profile, or texture.
Honey
Maple Syrup – If changing this cane syrup cake into a maple syrup cake, take into consideration that pure cane syrup is sweeter than maple syrup.
Molasses – Love the rich flavor of molasses? Try it in this recipe, or better yet, head over to our favorite recipe for Molasses Cake!
Corn Syrup
You can also make your own simple syrup. You can make a simple syrup from brown sugar, white sugar, cane sugar, or even a sugar-free alternative like Stevia.
Options for decorating the top of the cake
While the beauty of this cake is in its simplicity, you can "dress" it up for a special occasion by adding powdered sugar on top or even a dollop of whipped cream.
An orange glaze is a nice choice, using orange juice, orange zest, butter, and powdered sugar. Similarly, a lemon glaze is also lovely, with lemon juice, lemon zest, butter, and confectioners sugar.
You could also decorate with seasonal fruit, a bit of dry coconut flakes, lemon zest or orange zest, or even edible flowers. It also goes great with vanilla ice cream! Whatever you do, this recipe is a "piece of cake" to prepare and enjoy!
Ingredients for the golden syrup cake
Ingredients
1 cup cane syrup
1 cup sugar
a large egg
1/2 cup buttermilk
3 Tbsp. oil
2.5 cups all-purpose flour
1 tsp. baking soda
1/2 tsp of salt
How to make this cane syrup cake for yourself!
Directions
Preheat your oven to 350°. In a mixing bowl whisk together oil, egg, and sugar. Combine until smooth. Next add the cane syrup, buttermilk, flour, baking soda, and salt.
Using your hand mixer or stand mixer, combine ingredients together until well blended. Pour the cake batter into a greased iron skillet (or other prepared pan, such as a Bundt pan, loaf cake pan, or cake tin) and bake for 40-45 minutes (or up to 55 minutes for a Bundt pan) or until toothpick comes out clean! If your oven bakes "hot" you might decrease the cooking time.
Garnish the cooled cake with powdered sugar, strawberry slices, whipped cream, or your preferred topping.
Other desserts we love around here:
Traditional Syrup Cake
This old fashioned syrup cake is easy to make, super simple, and a great comfort food. Granny's recipe is one passed down you'll love making.
Ingredients
1

cup

cane syrup

1

cup

sugar

1

large

egg

1/2

cup

buttermilk

3

tbsp

oil

2.5

cups

all-purpose flour

1

tsp.

baking soda

1/2

tsp.

salt
Instructions
In a mixing bowl, beat together oil, egg, and sugar.

Add syrup, buttermilk, flour, soda, and salt.

Mix together until well blended.

Pour into greased iron skillet and bake for 40-45 minutes, or until a toothpick comes out mostly clean.
Notes
Note: If your oven cooks "hot", you might need to decrease cooking time. 
Nutrition
Calories:
387
kcal
Carbohydrates:
81
g
Protein:
5
g
Fat:
7
g
Saturated Fat:
1
g
Cholesterol:
25
mg
Sodium:
194
mg
Potassium:
79
mg
Fiber:
1
g
Sugar:
51
g
Vitamin A:
59
IU
Calcium:
27
mg
Iron:
2
mg
This recipe was first published in Cancer Freeze: Cookin' For A Cure. Printed with permission.