These Southern Christmas dinner menu ideas are sure to make your dinner a hit. Whether it be for your Christmas Eve dinner or Christmas day feast, you can find a menu here to satisfy your whole family.
---
Today we have some delicious Christmas dinner ideas for you. These are full dinner menus with a selection of dishes that pair well together. But feel free to mix and match!
We've also included several how-to videos to help with the preparation of your holiday foods.
We hope these Southern Christmas dinner recipes will delight you, your family, and friends. Merry Christmas!
Menu Option #1: Roast Beef Dinner
Roast beef makes a lovely holiday dinner. If this is on your Christmas menu, your guests are in for a real treat.
Appetizers
Scallops Wrapped in Bacon – Who doesn't love bacon wrapped scallops? This dish is the perfect prelude to a roast beef main course.
Pineapple Cheese Ball – This pineapple cheeseball is a party favorite. It's fresh, citrusy, and a perfect combination of salty and sweet that tastes great on a cracker.
Main Dish
Roast Beef – Whether you choose beef tenderloin or a rump roast, this recipe shares how to make the most tender roast beef with a delicious red wine gravy.
Topping your meal with a spicy Horseradish Sauce will give it a wonderful kick.
Sides
Garlic Mashed Potatoes – Who doesn't love mashed potatoes? These classic garlic mashed potatoes are an excellent pairing for your roast beef.
Homemade Green Bean Casserole – Most of us in the South know the short-cut to this recipe. It uses canned green beans, canned mushroom soup, and pre-packaged crispy onion. This works fine for every day, but for the holidays, check out this recipe for an amazing from-scratch version of this dish.
Roasted Brussels Sprouts – These Brussels sprouts are maple-roasted with bacon. I don't think you could have a better flavor combination!
Dinner Rolls with butter – These soft dinner rolls are the necessary complement to your roast beef meal.
Dessert
Southern Bread Pudding – We love this recipe for this truly Southern dessert.
Chocolate Sour Cream Pound Cake – This decadent dessert is the perfect sweet ending for your holiday meal.
Watch how to make sour cream pound cake
Menu Option #2: Roasted Turkey Dinner
This menu looks a lot like Thanksgiving dinner, and it also works for Christmas dinner!
If your family are turkey lovers, this is a great choice, with lots of great seasonal flavors.
Appetizers
Stuffed Portobello Mushrooms – Stuffed with cheese, bacon, scallions (green onions), and garlic, these Portobello mushrooms are oven-roasted for a hearty meal. It's an easy recipe, with only 7 ingredients.
Baked Brie In Puff Pastry with Apple & Cranberry – Just watch how easy this munchie is to make. You can substitute the dry cranberries with a little scoop of your cranberry relish to make it even more convenient.
Watch how to make baked brie
Main Dish
Roasted Turkey – With five stars from over 1700 ratings, this perfectly roasted turkey can be your go-to for any holiday! And don't forget to prepare the giblet gravy!
Sides
Sweet Potato Casserole – What makes this recipe so good (and so Southern) is its pecan topping.
Southern Cornbread Dressing – We love cornbread dressing in the South because, well, we love cornbread. And this dressing makes a comforting, classic dish for the holidays. It's moist, delicious and so easy.
Homemade Cranberry Sauce – Sure, you could buy it in a can. But if you have a little extra time to prepare, you've got to try this recipe.
Buttermilk Mashed Potatoes – These creamy mashed potatoes are to die for, and you'll love them alongside your turkey dinner.
Instant Pot Collard Greens – These Instant Pot collard greens are so flavorful and lovely. These are easy to make using your Instant Pot or pressure cooker.
Dessert
Sweet Potato Pie with sugar cookie crust and marshmallow whipped cream – This Southern sweet potato pie is a great harvest fall dessert. It's a slab pie, so it's big enough to serve a crowd and great for fall spice lovers.
Pumpkin Pie Cake – When you can't decide between a pumpkin cake or a pumpkin pie, just say "why not both"! This Pumpkin Pie Cake recipe will satisfy both of your cravings.
Watch how to make pumpkin pie cake
Menu Option #3: Baked Ham Dinner
For a traditional choice, this baked ham dinner is a classic.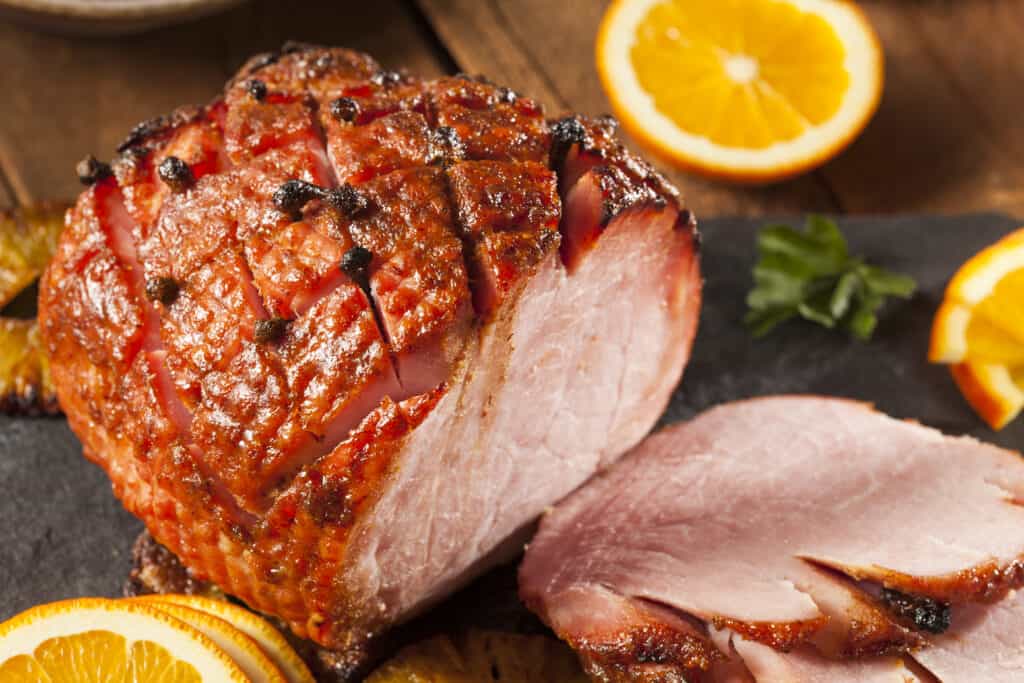 Appetizers
Southern Deviled Eggs – Want to make some Southern deviled eggs that are easy, fast, healthy and yummy? Use this recipe for Christmas dinner. These deviled eggs (with or without paprika) also have substitutions for those who are keeping it more healthy.
Oven Baked Turkey Meatballs – These oven baked turkey meatballs are great additions to a dinner as a meaty appetizer. Easy and tasty.
Main Dish
Baked Ham – This ham is moist, tender, and delicious inside while the outside is brushed with a brown sugar glaze and caramelized for a hint of sweetness.
Sides
Cauliflower au gratin – Cheesy and delicious. If you're not a cauliflower fan, you sure will be after trying this dish. Broccoli can also be added to this recipe.
Green Bean Almondine – With almonds and cranberries, this dish is a festive side that's perfect for your holiday meal.
Old Fashioned Candied Yams – These Southern candied sweet potatoes will be your new favorite way to prepare sweet potatoes! Slow cooked to perfection right in your skillet. Perfect for Christmas dinner or any other meal.
Dinner Rolls – Serve these soft rolls warm with a pat of butter and your guests will be in heaven.
Dessert
Dreamy White Christmas Cake – This cake was one of our first Christmas recipes at Southern Eats & Goodies, and once you check out the ingredients, you'll see why it's a Southern favorite!
Cream Cheese Pound Cake – This cream cheese pound cake will fly off the table. It's moist, dense, and can be topped with nearly anything your sweet tooth desires.
Watch how to make cream cheese pound cake
Menu Option #4: Pork Tenderloin Dinner
This menu is complete with applesauce, roasted potatoes, and other comfort foods that will make you feel the holiday spirit.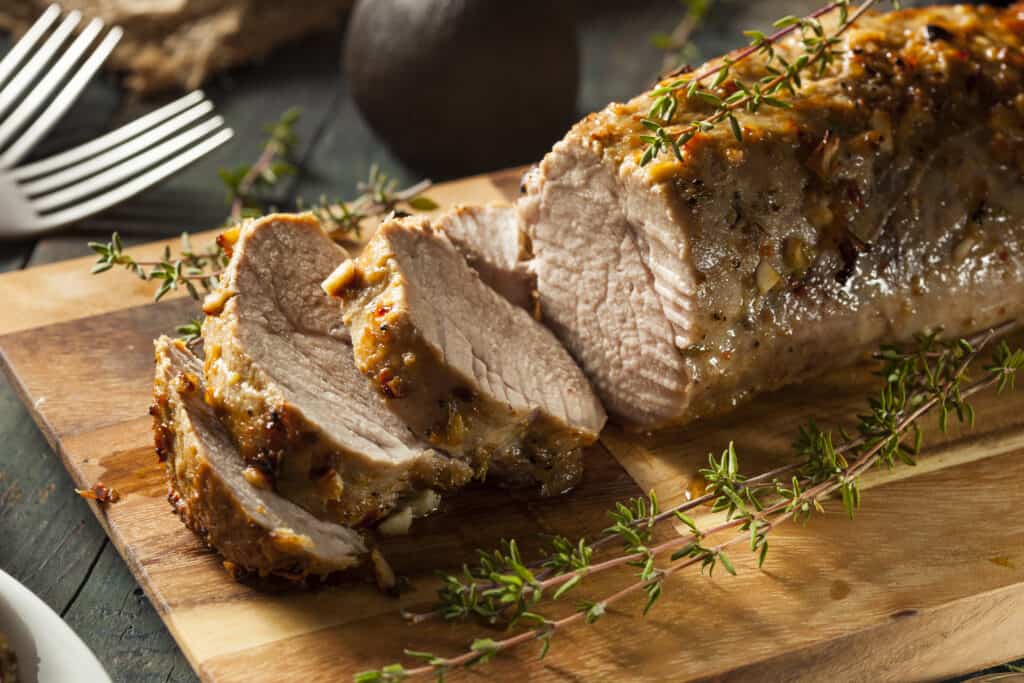 Appetizers
Pigs in a Blanket – For a super easy app, try this Pillsbury recipe to make this popular snack.
Pimento Cheese Dip – If you've been in the South long you know we love our pimento cheese. Just serve with crackers and enjoy.
Watch how to make pimento cheese dip
Main Dish
Pork Tenderloin – This Tuscan pork tenderloin recipe is so flavorful, with rosemary, oregano, and garlic.
Sides
Instant Pot Applesauce – You've got to have applesauce with pork. And this recipe is a snap in the Instant Pot or pressure cooker.
Oven Roasted Red Potatoes – These potatoes are super-easy. Dry onion soup mix gives them an amazing flavor!
Roasted Asparagus – Salty and savory, the roasting method eliminates the natural bitterness of asparagus. Even the picky eaters at Christmas dinner will like this side dish.
Buttermilk Biscuits – Just add a pat of butter, and these biscuits will pair perfectly with that delicious pork.
Dessert
Granny's Yummy Syrup Cake – This old fashioned syrup cake is easy to make, super simple, and a great comfort food. Granny's recipe is one passed down you'll love making.
Apple Pound Cake With Creamy Caramel Frosting – This apple pound cake with caramel frosting is so tasty and delicious. It's a great dessert to make ahead of time, even freeze, and enjoy for days.
Watch how to make apple pound cake
---
We hope you'll enjoy our Southern Christmas dinner menu ideas!
Southern Christmas Dinner Menu Ideas
These Southern Christmas dinner menu ideas are sure to make your dinner a hit. Whether it be for your Christmas Eve dinner or Christmas day feast, you can find a menu here to satisfy your whole family.
Ingredients
Instructions
Pick your dinner menu from the options above.

Follow the links to the recipes.

Plan, prepare, and enjoy!