These tasty potluck ideas will make you the hit of the party. From deviled eggs to pound cakes, these potluck recipes will give you plenty of delicious options.
---
The Potluck Gathering
In the South, we love a good potluck. Family, friends, and neighbors come together, and everyone brings their specialty dish. It's a great way to get to know people a little better, and it's always fun to see what everyone brings.
Typical foods brought to summer potlucks include chicken salad, corn salad, potato salad, fruit salad, pasta salad… Wow, that's a lot of salads. Well, we have many other options for you, plus a couple of our own salads too!
Our list of foods includes some potluck classics and also some unique dishes. And whether you're a Southerner or not, these recipes just might make your next potluck even more fun!
Deviled Eggs
Deviled eggs are a traditional potluck dish because they're such a crowd-pleaser. They're the perfect easy appetizer to make in large quantities to feed a big crowd, and they're delicious.
Our deviled egg recipe can be made with or without paprika and it also has substitutions for those who are keeping it more healthy.
Southern Deviled Eggs That'll Fly Off The Potluck Table
Oven Baked Meatballs
What's more fun than meatballs? And these bite-sized treats are as healthy as they are tasty.
While traditional potluck recipes for meatballs often involve a slow cooker and red sauce, we change things up with an oven baked version using ground turkey. These goodies are an easy potluck recipe and are sure to please your crowd.
Bang Up Oven Baked Turkey Meatballs
Collard Greens
We need a veggie dish on this list, right? Some Southern greens are the perfect food for any potluck.
These instant pot collard greens are so flavorful and lovely. When collards are in season, you'll want to make this dish for any party you attend because it's so easy.
Instant Pot Collard Greens You'll Want To Dip Your Corn Bread Into
The Classic Casserole Dish
So you need easy potluck recipes for a main dish? Oh have we got you covered here. Five recipes, and each is a unique and delicious casserole dish.
Check out our recipes for sausage & grits, ham & cheddar cheese, pinto bean, bacon cheeseburger tater tot, and chicken pot pie casseroles! They each make a great potluck dinner.
Fried Chicken Wings
What's a potluck without chicken wings or fried chicken? It's a must, and is always a popular dish that goes fast!
Our fried chicken recipe will give you all the tips you need to get the crunchiest, juiciest, and most flavorful fried chicken!
Southern Crispy Fried Chicken for your next potluck.
The Slab Pie
Okay, now those dishes we just listed are all great ones, but let's get to the desserts already! Slab pies are perfect for potlucks.
What's a slab pie, you ask? Well imagine a regular pie, and then make it into a rectangle big enough to feed your whole crowd!
These slab pies are yummy and great for gatherings when you need more than a 9″. They're sweet and tasty and will fly off the table. Don't forget the whipped cream!
Southern Bread Pudding
Here's another good-size dessert for your potluck crowd — Bread Pudding.
Try yours with some simple stale white bread or get fancy with Brioche or French bread. I've even seen bread pudding dishes made from stale doughnuts or cinnamon rolls!
Southern Bread Pudding for all your guests!
Poundcake
Did someone say cake? I don't know about you, but if it's time for dessert, I need some cake.
Here are some of the best pound cake recipes you'll ever come across. They use ingredients like cream cheese and sour cream to make the most moist, delicious, and dense cakes that will fly off the table!
Pound Cake recipes for everyone
Cookies!
Every potluck needs a big ole pile of cookies. Why? Because there are people like me who will snack on them during the entire party. Cookies are a great munchie that can sit out all day.
These cookies aren't your basic chocolate chip. They also include peanut butter, oatmeal, and raisins for a delectable treat!
Peanut Butter Chocolate Chip Oatmeal Raisin All Star Cookies
Ambrosia Salad
Another great summer potluck idea for a sweet treat is ambrosia fruit salad. This traditional dish is a Southern favorite, and it's a nice and cool dessert for a hot day.
Our version of this tasty treat uses a non-traditional set of ingredients – blueberries, strawberries, and bananas. You'll love this twist on the classic. And it's a super easy recipe that you can't go wrong with.
Ambrosia Fruit Salad with Strawberries and Blueberries
Pink Salad
Speaking of cool treats, this pink salad recipe is unique, delicious, and its beautiful pink color just says springtime!
So if you like easy potluck ideas and want to make a nice fluffy sweet pink salad, this will do it. It has fruit and just the right amount of fluff to make it super tasty.
Easy Pink Salad With Cool Whip And Jello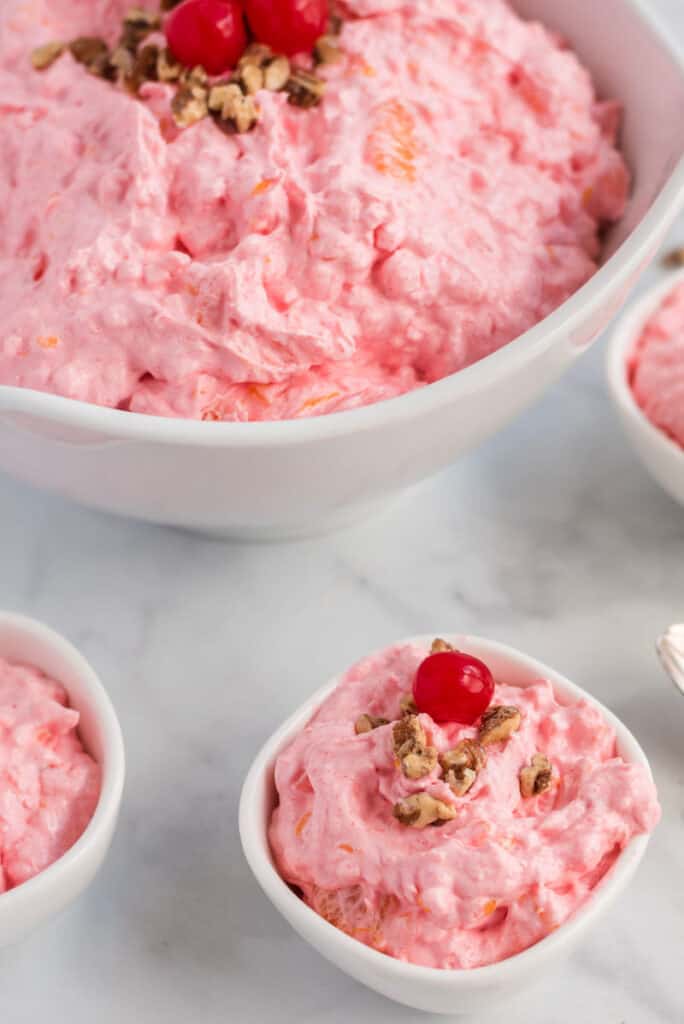 Don't Forget the Drinks…
Are you in charge of the beverages? Here you'll find some Super Celebratory champagne cocktail recipes complete with all the fixings.
Southerners LOVE a good party, a good tradition, a good celebration, and a good drink. Serve these great champagne cocktails at your next potluck.
25+ Champagne Cocktails For Your Festive Holiday Bash
Want more potluck ideas? Well we have more! Check out our Index and enjoy our full selection of delicious recipes!